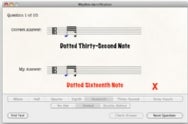 Arts programs like music often suffer when budgets cuts are made to education. So it helps to have affordable teaching tools, either for the classroom or for teaching at home, like Electric Peel Software's new Note-A-Lator and Note-A-Lator Pro. Both programs help students learn how to read music.
Note-A-Lator is a set of quizzes for music students that test for note and rhythm identification. You can adjust the number of questions in a quiz, select clefs (treble, alto, tenor, and bass) and accidentals (no sharps/flats, sharps/naturals/flats, or all accidentals). If you get an answer wrong on a quiz, Note-A-Lator shows you the correct answer so you can compare it to the answer you gave.
At the end of a quiz, the software displays a report card to show you the areas where you need improvement.
Note-A-Lator Pro is designed for teachers and lets you print quizzes for use in a classroom.
Note-A-Lator is $10, while Note-A-Lator Pro is $20. Electric Peel Software is offering 20 percent off the price during Macworld Expo (the deal ends today). Both programs require OS 10.5 or later and can be downloaded from the company's Web site.