Storage may not seem all that exciting, but we're always keen on the latest developments with hard drives, flash drives, and other devices. Here are a few storage devices that caught my eye at Macworld Expo. (You can also hear me and Macworld's Chris Holt and Roman Loyola talk about some of these products in a special From the Lab podcast at Macworld Expo.)
Verbatim
Verbatim's Mary Renuart took me on a tour of the company's products that will be available in 30 to 45 days. The Titan XS portable drive, which Verbatim claims is the world's smallest 2.5-inch portable drive, comes in 320GB, 500GB and 640GB capacities. (Our own Dan Frakes talks about the Titan XS in a video from the show floor.)
Verbatim also has a yet-to-be-named NAS product that looks a lot like a Mac mini. This small server comes with either a 1TB internal drive or without a hard drive mechanism, allowing you to add the drive of your choice. It features Gigabit Ethernet, eSATA and two USB 2.0 ports.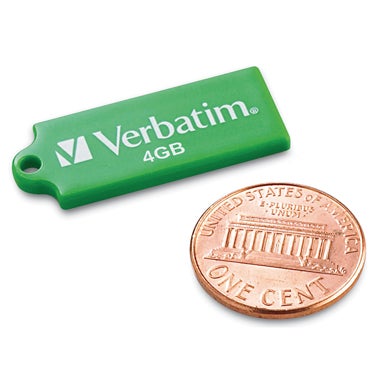 But the product that caught my eye was a miniature USB drive called the Tuff-'n'-Tiny. These diminutive drives are available in three varieties: a $15 orange 2GB model, a $21 green 4GB model, and a $30 purple 8GB model.
Drobo
While Verbatim is going small, Drobo is going big—literally. The DroboElite holds eight hard drives, uses iSCSI, and has multi-host support. Like all Drobo units, you can populate the eight bays with any capacity 3.5-inch SATA drives. The DroboElite has two Gigabit Ethernet ports and is easy to administer via the Drobo Dashboard.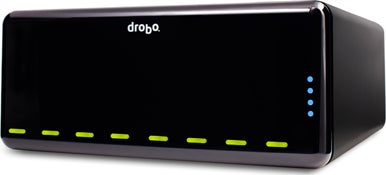 The DroboElite is meant to be used as primary storage for small to medium businesses or, with maximum transfer speeds as high as 180MB per second, as a Final Cut Pro server. Sold without drives, the DroboElite is $3499; with eight 2TB drives installed, the DroboElite runs just under $5900.
Buffalo
Buffalo Technologies showed off its new Dualie, a dual function, space saving device that includes a 500GB portable drive. It also allows you to dock and charge your iPod or iPhone using a single USB cable. The drive itself has both FireWire 800 and USB 2.0, and the dock also acts as a hub with two available USB 2.0 ports on the back. Available at the Apple Store, the Buffalo Dualie costs $250.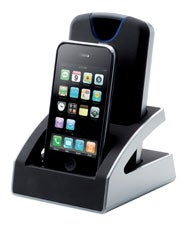 Also on display was the LinkStation Duo, a two-drive NAS device that can be configured as either RAID 0, 1, or JBOD. It features Gigabit Ethernet as well as a USB 2.0 port that allows you to share a printer over a network. Register the device at buffalonas.com and you can send your clients and co-workers links to password-protected files on your NAS. The browser-based administration allows you access to your files at home, at work, or on the road. A LinkStation Duo with two 1TB drives sells for about $340, a model with two 500GB drives is $260.
[James Galbraith is Macworld's lab director.]