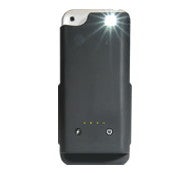 In addition to being able to try out the Best of Show-winning U-Power outlet, visitors to FastMac's booth on the Macworld show floor got a sneak peek at the company's upcoming iV Plus, a $100 iPhone case, co-branded with software developer UMEE, that adds a number of unexpected features.
The simplest of those is an LED flash that synchronizes with the iPhone's camera; similar products we've seen include an LED light that you must turn on and off manually. You also get a 1300mAh battery that lets you watch video for up to 15 hours, listen to audio for up to 50 hours, or talk on the phone for up to 20 hours.
But the big appeal of the iV Plus is that it includes an infrared transmitter and receiver that, together with a custom iPhone app developed by UMEE, lets your iV Plus-clad iPhone act as a universal remote control for your home entertainment system.
Much like Logitech's Harmony line of unversal remotes, the iV Plus's custom app lets you browse an extensive database of AV products: receivers, CD players, Blu-Ray players, DVD players, TiVos, cable boxes, the Apple TV, and so on. Once you've chosen your devices, each gets its own screen with the appropriate buttons for controlling the device. Also like a Harmony remote, you can create tasks, which are specific combinations of devices to be used together. For example, a "Watch DVDs" task might include your TV, DVD player, and home-theater receiver; pressing the Watch DVDs button would automatically turn on your TV, DVD player, and home theater system, and then switch the TV and receiver to the DVD input.
However, unlike most universal remotes, there's no complicated codes to enter, nor do you need to connect the remote to your computer and use a complicated setup utility to configure devices and tasks. The iV Plus's iPhone app provides simple, scrolling lists of devices; to add a device, you simply tap the device's name on the screen. The company plans to regularly update the app's database with additional devices; the app can download updated device lists via the Internet. (If one of your AV components isn't listed, the app can manually learn the component's remote commands using the iV Plus's infrared receiver.)
FastMac has taken advantage of the iPhone's interface to provide two other unique software features. First, you can configure the onscreen button layouts, for both individual devices and for tasks. The app provides a library of sliders, dials, buttons, and switches you can drag around the screen, letting you create a remote-control interface as complex—or as simple—as you like.
The second is that FastMac and UMEE have licensed TV listings for the app, letting you browse listings and search for particular channels and shows. If you can't remember which of your 200 stations is ESPN Classic, you just type ESPN and then tap the ESPN Classic item in the search results; the iV Plus sends the appropriate command to your TV or cable box to change the channel. Or you can type the name of a TV show, and then tap the show name in the results screen to change to that channel.
FastMac estimates the iV Plus for iPhone will be available in April. The company said it's looking into a version for the iPod touch due to demand from show attendees.
Updated 2/18/2010, 10am: Updated to note co-branding with UMEE.