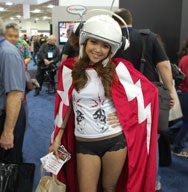 Do have any unidentified tracks in your iTunes collection? How about mislabeled albums? Tune Up can help. Tune Up is a why-didn't-I-think-of-it-first iTunes add-on that cleans up your iTunes library by identifying missing information in your iTunes library.
Thanks to its Wave Form recognition search technology (the same music identifying technology behind Shazam), Tune Up can clear up those mysterious unlabeled tracks in iTunes, fix the incorrectly labeled ones, and even get album art you never had. The result is a much more robust, complete, and professional looking iTunes collection.
Tune Up first caught my eye at Macworld Expo because they feature the most garishly dressed press person on the floor. Wearing a t-shirt, red cape, helmet, and very little else, Tune Up's Expo mascot was a favorite target for photographers and blushing passersby.
On its Web site, Tune Up offers two versions of the software: a free version and the full Gold version that sells for $20 a year or $30 for a lifetime. The free software allows you to clean up 100 songs and find 50 album covers. With my collection of 20,000 obscure punk, ska, and rock tunes, I found over 1000 songs that had basic information missing like song title and album. Springing for the full version seemed imperative to get the full experience.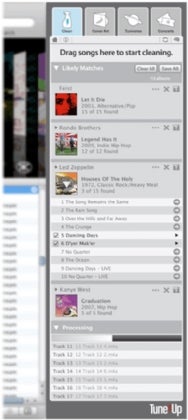 That said, I was impressed with the demo version. Tune Up appears as a window tacked onto the initial iTunes window. The four tabs offer a lot of information. The Tuniverse tab has links to Twitter (so you can tweet about your music), YouTube clips of the artist you're listening to, and an artist bio. The Cover Art tab identifies the album art for the song you're listening to, and if you're missing it, can download it for you. There were some duplicates I noticed, but they were pretty comprehensive in their findings-a testament to the depth of their database. A Concerts tab acts like iConcertCal and other concert search add-ons; it searches your music for concerts in your area and lists them for you chronologically.
But the real meat of Tune Up is the Clean tab. It's simple: You drag and drop the songs you want cleaned and you watch as the software's database is able to identify the songs and album of each artist. Your songs are organized by album and even show the track order and the other tracks in the album (in case you're missing any). On average, it took only a couple seconds to identify each song and mere minutes to identify the 400 songs I placed in the queue. Tune Up rates how confident they are in each find-confident matches, likely matches, unknown, etc. They didn't catch everything, but I was surprised what they did catch. I have an obscure bootleg from a punk ska band and they were able to identify it. Hopefully I'll get a chance to look at a full version of the product and see if their database has some of my more obscure live tracks and how quickly it can clean up my entire iTunes library.
Tune Up made a splash at Expo because of their unconventional booth, demo, and salesmanship. But they'll stick around in this market because their software is so simple, comprehensive, and effective. They have a blog that keeps you updated on their various features of the product, and the handy walkthroughs make it a product virtually anyone can use. Like many music fans, I look forward to checking out the full version to see how well their database handles my obscure collection of music.
[Chris Holt is a Macworld associate editor.]