At Macworld Expo this week, Tunebug showed off both its Vibe and Shake portable speakers for use with iPods, iPhones, and other music devices.
What makes the Tunebug products interesting is that they are sound generators that turn a variety of surfaces into speakers. In fact, hold one up and you won't hear anything—it requires a reflective surface to create sounds (the company calls the technology it uses SurfaceSound).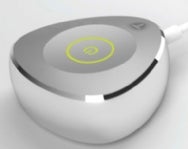 The $70 Vibe connects to your player using a standard 1/8-inch audio jack, and comes with a Sound Base (which doubles as a carrying case) that you use to produce sound. But you can use any flat surface with it, although Tunebug suggests you'll get the best results with something such as a hollow box (on the show floor, I stuck my head inside an open-ended box for a demo, and it sounded decent—loud enough, although lacking in bass). The Vibe has a rechargeable battery that the company says will last for five hours on a charge.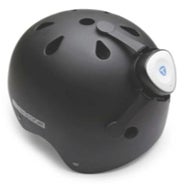 The Shake, which Tunebug plans to release in April for $120, builds on the Vibe concept by adding Bluetooth connectivity and touch-sensitive buttons for power and volume control. It's designed specifically for use with sport helmets for biking, skateboarding, and skiing—the Shake comes with TuneStrap and Gecko Mount harnesses—without requiring headphones that could block external sounds you might want to hear (an ambulance siren, say). Like the Vibe, it should provide five hours on a charge, and echarges from a USB port on your computer.