There are really only two things any prospective buyer needs to know about Digital Chocolate's latest game for the iPhone and iPod touch. First: Dictator Defense is a simple, easy-to-learn variation on the fortress defense game. Second: Dictator Defense is extremely addictive.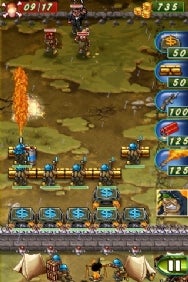 Although there's a five-screen instruction manual, the gameplay is pretty easy to figure out. Different types of poorly armed and tactically-challenged soldiers slowly move from the top of the screen toward your defensive wall at the bottom of the screen. You simply need to put up your defenses in the path of the oncoming enemies and destroy them. Your arsenal is impressive: flamethrower and semi-automatic gun-toting soldiers, dynamite, defensive walls, automated laser machines and tank-busters.
The money making mechanism, although extremely unrealistic (what about this game isn't, really?) is also a pretty simple concept. Laying down "bank" units increases the rate in which your treasury increases. If they are destroyed, that stream of income stops.
Periodically, levels will challenge you with not letting you use bank units and instead you have money parachuted to you, necessitating a little bit more budgeting. The game's 40 levels all present different challenges within this framework by introducing new enemy units, throwing in increasingly larger hordes of enemy soldiers and a featuring a few mini-bosses. Pretty simple.
This pure simplicity is part of the allure. The game is reminiscent of a one-dimensional Starcraft-clone minus the aliens and well, any meaningful strategy. You can place a unit in the path of an enem,y and those poor little guys will duke it out in a game of chicken until one of them dies. You can really beat most of the levels by just laying down an adequate quantity of soldiers. As the game progresses into higher difficulty levels, the challenge actually comes with a scarcity of available funds to buy soldiers. Sure, there isn't much strategy and the game may be overly simplistic, but that's why I want to play it on my iPhone while I'm waiting for the bus and not on my Xbox with a bunch of friends. Each level is short enough to pull out and play discreetly while you're wasting time on your phone.
The game incorporates some fun design details which make great initial impressions. The enemy dictator bosses in each part of the game are pretty much caricatures of George W. Bush, Arnold Schwarzenegger, Fidel Castro and—as far as I can tell—Darryl Hannah's character from Kill Bill. The soldiers inside your fortress walls seem to be roasting a decapitated penguin over an open fire.
Though full of nice little details, one of the game's biggest weaknesses is the music, which makes you feel like you're playing Duke Nukem in 1995. In my longer addictive binges of playing Dictator Defense, I kept the sound off. Luckily, Digital Chocolate has designed the game with some great iPhone music integration. Within the application, you can actually get access to your music library and create an on-the-go playlist. I recommend some good Creedence Clearwater Rvival for a Vietnam feel in the jungle levels. Other aspects of the game work really well within the iPhone system—the game will automatically pause for you to receive incoming text messages and phone calls.
Whether you want some quick entertainment while you're on the go or you are ready to plug in the headphones and go for the long haul, Digital Chocolate's Dictator Defense delivers and has great replay value that keeps you opening up this app over and over again.
[Macworld contributor Bryan Schell isn't afraid to lead his troops into battle]