Racing games are certainly plentiful for iPhone and iPod touch, but Resolution Interactive succeeds in creating a unique racing game in Snow Moto Racing. This arcade game puts you in the seat of a snowmobile to race against seven computer-controlled opponents across six snow covered tracks.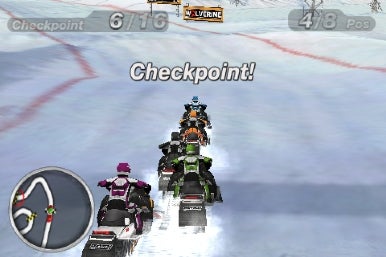 Don't worry if you've never driven a snowmobile before; the controls are very straightforward. You can choose a cruise control option to control acceleration and braking or tap zones on the screen for more precise control. But while you'll have plenty of options to brake, tilting is the only way to steer. As you hit jumps on the course, a tap in the middle of the screen or quick flip of the iPhone will cause you to perform a mid-air stunt awarding you with a temporary boost of speed. There are multiple camera angles to watch the action, but unfortunately the first person mode omits viewing the handlebars and thus lessens the realism.
As with all racing games, smooth and steady wins the race, and Snow Moto Racing is no different. Stay on the track or you'll bog down in the deeper snow. The AI opponent difficulty is dynamic. That is, opponent difficulty adjusts to you and guarantees the race is close throughout. You can adjust the level of difficulty, and achievements motivate you to tackle your AI opponents at all difficulty levels. You can't customize your snowmobile so only improving your skills will beat the hardest opponents.
Snow Moto Racing is a great value with beautiful graphics, smooth frame rates, and a hard rocking soundtrack. The music is limited, but you can select your own iPod tracks in-game. The scenery, while pretty, can get repetitive quickly. For more replay, there is a Bluetooth multiplayer mode too—no Wi-Fi however. If you want to give the game a test drive, there is a free lite version. Living in Florida, this is as close as I'll ever get to racing snowmobiles.
[James Savage is the host of the RetroMacCast a weekly podcast devoted to older Macintosh computers.]