Those who ventured back into the far northeast corner of the Moscone Center (right next to the Macworld Cafe) would have found Flatscreen Arms and its Aluminum Flatscreen Arms for Mac on display at Macworld Expo this week.
The company showed its Sidewinder, Mantis (with a hydraulic arm), and Boa lines of mounts, with adapters for iMac models ranging from 19 inches to 27 inches, as well as for Apple's 24-inch LED Cinema Display and 30-inch Cinema HD Display.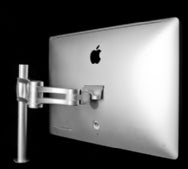 The mounting arms are made from high-grade recycled aluminum, similar in look and feel to the Apple products they float above your desk. The company says its mounts make your Mac usage more ergonomic—letting you position your iMac or screen in the perfect position, say, or move it around during the day so you're not sitting in the exact same spot for too long. The arms can connect to your desk through a hole or using a clamping device, or mount on a wall.
Although the Flatscreen Arms Website doesn't list any pricing information, the company told me the products range from $400 to $800—a pretty penny, to be sure, but also just plain pretty.