Roaming the floor of Macworld Expo, it was hard not to notice the amount of attention focused on the as-of-yet unreleased iPad. Targus's prominent display featured a variety of protective iPad cases, and a number of other stands featured their own iPad cases and screen protectors as well.
Enthusiasm for the iPad could be felt throughout the Expo, and while there wasn't a single real iPad on display, life-size mockups were on display throughout the floor. Other companies, like HyperMac, made sure to add the iPad among their list of supported products.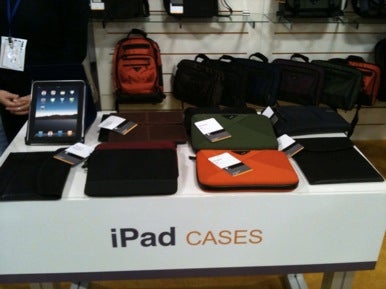 Touchpad-friendly gloves were another popular Expo item. Sure to be useful to those who live in cold climates, these gloves offer the warmth and comfort of normal gloves, but allow you to operate your iPod or iPod touch, unlike normal gloves. iTouchGloves and Telefingers are two glove makers who let attendees try out their products. Telefingers's gloves were thin, and may not have offered as much protection from the cold as thicker gloves or mittens might, but they were comfortable, and allowed for a very natural feeling experience while using a touch screen device.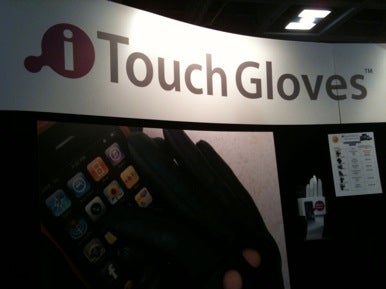 iTouch Gloves had more expensive, "designer" leather gloves on display. These gloves were considerably thicker than the Telefingers gloves, relying on nano-technology to let the user interact with a touch screen. It felt strange operating my iPhone with a thick pair of leather gloves, as I couldn't really feel the sensation of touching the screen, but with a little practice, I was able to navigate my iPhone's interface quite comfortably.
Both companies offer great solutions for those who wish to use their touch devices without having to subject their hands to the elements, but style and budget should be the determining factor for customers.