App maker Juicy Development already had busy week at Macworld Expo showcasing FastTrac, its iPhone offering for avoiding long waits at Disneyland. But Juicy Development had more on its plate this week than just the Happiest Place on Earth; it also released a new version of its app for emergency broadcast streams.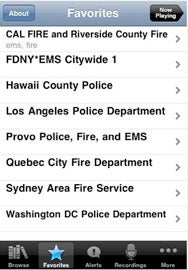 Police Scanner 2, a $5 download from the App Store, lets users listen in on police, fire, and EMS streams from around the world (much like its predecessor). The new version, released during Macworld Expo adds social networking capabilities. Now users can alert one other via text message about activity on the emergency streams to which they're listening. Something going down in Los Angeles? You can notify other Police Scanner 2 users by way of s small ticker in the app.
That's just the start of the social networking features planned for Police Scanner 2. The folks at Juicy Development tell me a update that adds integration with Facebook and Twitter is already under review by Apple.
Police Scanner 2 also lets users record snippets of a stream for playback later. Those recordings can be as large as the available memory on your iPhone or iPod touch allows.
Juicy Development says that Police Scanner 2 offers 2,300 emergency broadcast streams from nine countries—some provided by RadioReference.com but others that an employee at the developer's Orem, Utah headquarters tracks down. "We have a lot of feeds that nobody else has," Juicy Development's Tod Hadley said. "We're searching nationally and internationally for feeds that RadioReference doesn't have."
Note: When you purchase something after clicking links in our articles, we may earn a small commission. Read our affiliate link policy for more details.