Few exhibitors at Macworld Expo put their products' reputation on the line as much as MacSpeech did in its booth last week.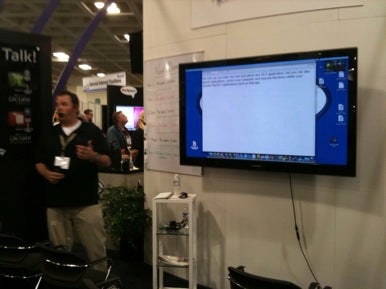 MacSpeech, of course, makes MacSpeech Dictate, a voice recognition program that lets you use your voice to input text. The middle of a busy trade show floor hardly seems like ideal conditions for demonstrating a speech-to-text program, but MacSpeech gave Expo attendees a live demonstration throughout the week. A presenter was constantly at the booth, wearing a headset and demonstrating the various features of MacSpeech Dictate, while the program ran on projected screen behind him, writing out his every word in real time. Every phrase spoken during the presentation was written out as text, using MacSpeech Dictate's advanced voice recognition software, with surprising accuracy.
While I had always been wary of the effectiveness of voice recognition programs, MacSpeech's booth demonstrated to me just how advanced this technology has become. The speaker lead us through a demo, wherein he wrote paragraphs of text (he had to state the punctuation, of course), opened and responded to e-mails, and made small edits using only his voice. True, not everything he said was transcribed with 100-percent accuracy, but the vast majority was perfectly written out.
I found it impressive that the company was so confident in its program that it were willing to show it in use, flaws and all, during the duration of the Expo. MacSpeech Dictate is available for Intel-based Macs running OS X 10.5.6 and up, for $199. At Expo, MacSpeech also announced its Scribe product, which translates voice recordings into text.