Macworld Expo organizers dedicated a large corner of the show floor to the Macworld Music Studio stage, which featured regularly scheduled presentations at last week's trade show. Those presentations tackled everything everything from getting great guitar tones on your Mac to programming drums and learning to DJ with special software.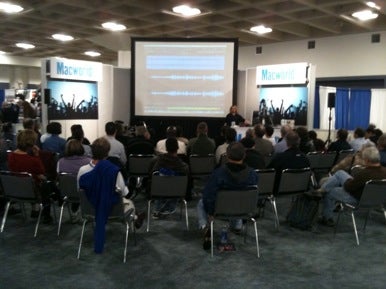 The Macworld Music Studio, which collaborates with Berklee College of Music, didn't offer much in terms of intermediate or advanced demos for seasoned Mac musicians, but was more of an entry-level forum for musicians looking to dip their feet in the water of Mac music making.
Most of the presentations were dynamic and entertaining, utilizing real guitars, a full size electronic drum kit, and USB turn table controllers, depending on the focus of the presentation. I sat in on the guitar and drum presentations, and found them to be extremely useful for Mac musicians looking for a place to start in the vast, and sometimes intimidating world of music software for Macs.
Bill D'Agostino used Logic Pro to show audience members various ways to easily add convincing sounding drum tracks to our music—typically a daunting task for the rhythmically disinclined. His demo involved taking a Creedence Clearwater Revival track and replacing the drums with his own beats. He went over creating beats with a MIDI Keyboard, a MIDI drum kit, and by simply using pre-recorded Apple loops. The results were impressive each time around, and required a minimal amount of skill (except for the MIDI drum kit, of course, which requires the ability to play drums).
Tony Marvuglio demonstrated the amp and effect modeling technology found in Logic, showing the audience how to achieve realistic electric guitar tones using only your Mac. For those who haven't experienced it yet, guitar amp modeling technology has evolved to the point where it can rival the sound of a $2000 guitar amp. The demonstration seemed to impress the sizable number of guitar players in the audience—Marvuglio asked at the beginning of his presentation for a show of hands from guitar-playing audience members, and nearly everyone raised their hand.
While the Macworld Music Studio was great for those just getting started making music with their Macs, it would be nice to see some slightly more advanced topics covered for the more experienced musicians in the future. Anyone who's used Logic beyond the beginner level wouldn't have much to gain from sitting in on these presentations, but as it is, the Music Studio seemed to achieve its goal of appealing to the largest majority of musicians—hardly a seat was empty during many of the demonstrations.