Microsoft unveiled the next version of its operating system for mobile phones, Windows Phone 7 Series, featuring a move away from applications and towards functions.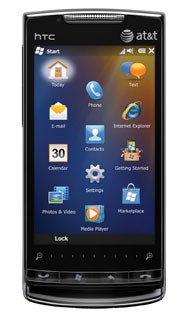 "It's all about the phone and how consumers react to the device," said Microsoft CEO Steve Ballmer, opening a news conference held outside the Mobile World Congress in Barcelona on Monday.
Windows Phone 7 Series also marks a move by Microsoft to take greater control of the user interface of its phone software.
"We wanted to take greater accountability for the end user experience," Ballmer said. "We want more consistency in the hardware platform and in the user experience," he said, while nevertheless saying Microsoft wanted to leave room for hardware partners to innovate.
Microsoft also wanted the software to differentiate future phones from its past offerings, both phone and PC.
"Phones looked like PCs, but a phone is not a PC, it's smaller, more personal," said Joe Belfiore, vice president for Windows Phone.
To make the interface more personal, Microsoft is counting on a checkerboard of customizable "live tiles" that can update automatically with information from the phone or the Internet.
Some of the tiles will update automatically to show frequent contacts or local information, while others can be customized manually. The tiles will be grouped into themed "hubs," for example a page of contacts called "people" or a page of photos called "pictures".
Other hubs include "office," which features functions for note-taking and synchronizing documents with a PC; "games," which integrates with the company's Xbox live online community for its game consoles; and "music+video," which synchronizes songs and videos with its desktop Zune jukebox and music store software.
There won't be too much personalization though: some aspects of every Windows Phone will be the same.
"Every Windows Phone 7 Series device will have three buttons on the front: 'Start,' which gives you quick access to those tiles, 'Search,' because that's how you are going to find phone numbers and restaurants, and 'Back,'" said Belfiore.
Belfiore showed how the software will recognize addresses in incoming e-mails or calendar entries, converting them into hotlinks to Microsoft's Bing Maps property.
The interface has an on-screen QWERTY keyboard and will support four-point multitouch interfaces in the same way as Windows 7 for PCs. Another feature borrowed from PCs is the Web browser: it's based on the same code as the desktop version of Internet Explorer, Belfiore said.
The graphics Belfiore showed are spacious, using a thin typeface with big one-word titles for the themes of each screen — day, local, music and so on. The text is displayed using a more precise version of Cleartype that Belfiore called sub-pixel positioning.
Some of the page transitions in the user interface slide like the cards in Palm's Web OS.
The first version of Windows Phone 7 Series will not include Adobe Flash—although Ballmer said he had "no objection" to Flash support. That marks the software apart from Apple's iPhone, which does not—and will not—support Flash.
Microsoft will also release a software development kit (SDK) to enable network operators and third parties to add new services and applications to the phones. AT&T, in the U.S., and Orange, in France, will be among the first operator partners to develop services specially for the phone.
Microsoft expects the first phones running the software to be available by the end of the year, and says that network operators including Deutsche Telekom, Orange, Verizon and Vodafone, and vendors including Samsung, LG, Sony-Ericsson and long-time partner HTC have committed to offering devices running Windows Phone 7 Series.