Honestly, who didn't love making spin art as a kid? It's so simple: Put a piece of paper on a turntable, spin in around, and splatter paint on it. You go from zero to Jackson Pollack in 30 seconds.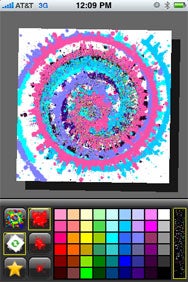 Now developer Brian Smith has brought one of my favorite childhood activities to the iPhone with SpinArt, which offers all the fun of the original, but none of the messy paint or frustration of cutting the perfectly sized paper squares to fit on the spinner. There are other apps in the iTunes store with the same concept, but this one keeps things old school. (And it does so at a discount—normally $2, the app is listed at $1 as we published this review.)
You start with a blank canvas in your choice of colors or photo from your iPhone library, with six control buttons and an extensive color palette. Select the spin button and move your finger in a circle on the screen to get things going. Then select from one of three thicknesses of paint splatter, pick a color, and touch the screen. Repeat until you're done. Select the glitter button to add a little shine to your artwork.
When you're finished, you can save the picture to your library, or join the SpinArt group on Flickr to show off your skills. This is an app that's not only fun for adults, but for their kids as well.
[Meghann Myers is an editorial intern for Macworld.]