At a Glance
Expert's Rating
Our Verdict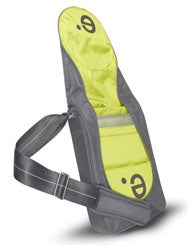 As the name suggests, be.ez's LE vertigo laptop bag stores your 13-inch or 15-inch laptop in a vertical position on your travels. It's a novel solution, that proves both comfortable and well-balanced, with a smaller slim footprint, particularly with the 13-inch model, that's easy to carry and store.
French company be.ez ("be easy") managed to include plenty of storage options in such a compact design. A padded computer sleeve keeps your laptop in place, while the bags flap is held down by a subtle Velcro be.ez logo, that can only be seen when the bag is open. Both interior padded pockets and pouches are useful and easy to access.
Build is excellent, made from EVA (ethylene vinyl acetate) and EPE (expanded polyethylene), the LE vertigo is waterproof and feels reassuringly rugged. The supplied adjustable shoulder strap is nylon based and feels comfortable during travel despite the lack of padding. The interior is stylish and brightly coloured and feels extremely soft and tactile for storing both laptop and accessories. Despite offering impressive protection the LE vertigo is light on bulk and weight.
Macworld buying advice
The LE vertigo laptop bag is a novel solution for laptop users on the go. The vertical positioning creates a comfortable manageable small footprint on your travels. Compact for storage at home, the bag can easily be hidden away discreetly should the need arise. Fashionable, yet solid, build and finishing is excellent right down to the padded and zipped accessory pockets and lining.