AutoPark is very cleverly implemented. The $5 app from FrolicWare aims to improve the experience of parking your car. With just a few taps on your part, AutoPark keeps track not only of how much time is left on the meter and where you parked, but a host of other useful information as well.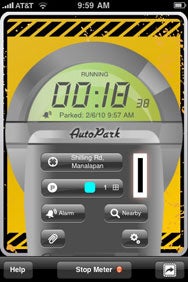 When you first launch AutoPark, you'll see a virtual parking meter—which is the app's primary interface. Tap on the coin slot, or the "time remaining" field on the meter, and you can enter how much time you've put on the meter (or other time-based parking spot). But rather than merely offering a pure time picker, the developers clearly realized that with the narrow focus of an app like this, it was well worth it to polish the key interaction points. So yes, you can scroll through meter times in five minute increments, but you can also choose to tap one of four common shortcut buttons, for parking durations between 30 minutes and 2 hours.
And if you're actually parking at one of those newfangled, prepaid machines, you can switch from timer mode to clock mode, and tell AutoPark the exact minute your time will be up.
That's all you need to do: Now, you just tap the Park & Go button to start the timer on your iPhone, and go on your merry way. If, on the other hand, you occasionally have a tough time remembering precisely where you left your car, AutoPark's got you covered. You can tap a button to identify your spot's location, which is then marked on a map. You can tap in the level, color, or spot number if you're parked in a garage. And you can even tap in free-form notes ("turn left out of the elevator") or add a photo if you'd like.
Impressively, even if you avail yourself of all those options in addition to the meter timer, you still won't have exhausted AutoPark's feature set. That's because you can still tap the "Nearby" button to find banks, bathrooms, and gas stations within walking distance of your parking spot. Frankly, this feature works great even if you never use AutoPark to remember where you left your car; with two young kids, I'm always happy to know the locations of the nearest water closets. (And bars, but that's another story—and another app.) Also cool: If you haven't found a spot yet, the app can point you toward nearby lots.
Of course, if you needed to leave AutoPark running for the timer to work, that would be pretty lousy. Fret not: The app is powered by push notifications. If you're busy Twittering from the restaurant about the chicken parmesan, AutoPark can and will still alert you when the meter's running out. By default, the app will issue such a notification when the meter's down to 15 minutes remaining, but that's a customizable option. What isn't customizable, though, is the heart-stopping sound that AutoPark alerts you with. You can control its volume, but even a quiet, suddenly wailing siren from my pocket is enough to make me jump.
Now, as AutoPark reminds you in its voluminous, well-written Help section, Apple doesn't guarantee timely delivery of push notifications. So for maximum certainty, its developer recommends that you relaunch the app intermittently to spot-check the timer. I didn't run into any issues in my testing, but your parked mileage may vary.
Besides my inability to configure that nightmarish sound, my only other complaint is pretty minor: The first time I ran the app, on two different devices, I tapped to permit it to send push notifications. Immediately afterwards, though, the app threw an error message saying that alerts were disabled and that I should check the Settings app to turn it on. It's a harmless but annoying first encounter with the app.
Folks parked for years before the iPhone existed, and I suppose some of them avoided tickets for expired meters. A pen and paper, or an iCal or even wristwatch alarm could replicate much of this app's core functionality. Still, it's the year 2010. If you park in timed spots with any frequency, know this: AutoPark looks great, works elegantly, and incorporates enough clever extra niceties to deserve a spot of its own—on your iPhone.
[ Lex Friedman is a frequent contributor to Macworld.]