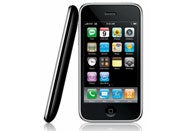 The high bandwidth usage of smartphones could bring about a "capacity crunch" on worldwide networks that can only be solved by a more conscientious approach to device and application development. Or so says Mike Lazardis, the CEO of BlackBerry-maker Research in Motion.
In an interview for Reuters, Lazardis is quoted as saying that United States is already experiencing a significant strain on its mobile networks brought about by smartphones—which, given recent reports, can be interpreted as a sideways jab at the iPhone. The high data usage of iPhone has, in many densely populated areas, overloaded AT&T's cellular network, resulting in poor wireless speeds and other connectivity problems.
Lazardis' view, which Reuters claims is shared by other industry analysts, is based on the premise that, on cellular networks, bandwidth is a limited commodity shared by all users—unlike wired networks, which "boast enormous data-carrying capacity."
This claim is flawed for a number of reasons. Wired and wireless networks work on essentially the same premise: multiple users share the same bandwidth, with traffic sectioned into smaller interconnected units—local networks in one case, and mobile cells in the other. In fact, the data traffic generated by mobile phones is effectively collected at a cell repeater and then retransmitted (often across a wired connection) through a dedicated link to the Internet.
Moreover, while it's true that wired networks have greater capacity than wireless transmissions, one only needs to look at their historical development to understand that bandwidth is not a finite commodity, but, rather, a function of the technology that supports it. Fifteen years ago, local-area networks could barely break 1Mbps—and a fast Internet connection that didn't require the sale of body parts was measured in kilobits. In response to increased customer demand, today's wired connections are cheaper and significantly faster.
The same has happened—and continues to happen—to cellular networks. Anyone who had the misfortune of requiring a GPRS connection only a few years ago is familiar with its two key features: lack of speed and abundance of cost. A few short years have given mobile users significant speed and capacity increases, with no end in sight.
The increase in bandwidth usage is not a function of the recklessness of smartphone manufacturers—rather, it's a result of customers taking full advantage of handsets that bring them computing capabilities that they want to use. And it's also worth noting that BlackBerries routes all of their data through RIM's own servers; according to the company's financial filings, it made over $1.5 billion in subscription services over the last financial year.
So, will smartphones bring about a bandwidth apocalypse? It's impossible to say right now, but smartphone users have shown that, given a capable device, they'll use it. A lot. That means it's up to those laying the pipe to make sure that it can support the capacity that 21st century mobile users demand.