Few Hollywood big-hitters carry as much weight as Jon Landau. As the film producer of Avatar and Titanic, he's the man behind two of the biggest movies of all time and is arguably now the most powerful producer in Hollywood.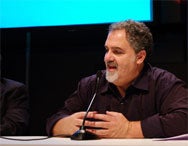 We caught up with Jon Landau at the Mobile Word Congress show in Barcelona, where he was helping to promote MOFILM, a competition site that aims to encourage filmmaking to a new generation of aspiring filmmakers.
We talked to him about mobile devices, including the iPad, and how they will interact with the film industry in the future.
"I am a big Apple fan," says Landau. "When I started out at 20th Century Fox they were all on PC and we managed to get everyone switched to Mac. It wasn't easy but we did it."
Landau says the iPad is a huge opportunity for the film industry. "I'm very excited by the iPad," he says. "All of a sudden we have a screen, size-wise, that can compete with other screens. That's where you're really going to see content coming to life. You're no longer watching it on a 2- or 3-inch screen. The iPad is going to give us the opportunity to display film product on a much larger display in what is still effectively a mobile device."
On whether the iPad's rather square form factor (versus a film's widescreen display) Landau is more reticent. "I think it'll influence how we prepare content," he says. "We sit there and we take a movie and we shoot in in widescreen. When we go to television we reformat it, and I think we'll reformat it for when we go to an iPad as well."
Landau says that the idea of films starting out in one size is something of a misconception in the first place. "Avatar went out into theatres in widescreen and full display, depending on what the theater would play."
Furthermore, because there is no single film color standard for 3D displays as yet, the Avatar team edited different versions for different kinds of theater depending on their color setup.
"But on the iPad," says Landau, "maybe we're better off being full screen."
Landau doesn't think that the emerging mobile devices will have much impact on the nature of films themselves. "I don't think it'll replace film," he says, "but there are different points of view. Personally I think you'll see the same thing as television. Worlds are created that people follow in an episodic fashion. There's an exciting opportunity to keep worlds alive."
But he's also keenly aware of the power of mobile devices as a marketing platform. "We did use mobile to get [Avatar] out there," says Landau. "You have the ability to reach millions so quickly."
This is equally important in emerging markets, where mobile devices will have a much bigger impact than in the developed world because they may be many people's first experience of the computing world. "I think for us reaching out to emerging markets through mobile devices will initially be for publicity and marketing purposes," says Landau.
"I don't see us going out and creating original content yet," he says. "But I think it's very exciting when you can no longer reach people with just alphanumeric but with true video content. that conveys your messaging much clearer."
He also notes on the ubiquitous nature of the moving image: "Video is universal and it goes across language barriers. You can do a piece for mobile with no dialog and make it as powerful as anything, and it would work across any language."
As producer of Avatar it's reasonable to assume that Jon knows his way around 3D. Perhaps unsurprisingly, Landau is an evangelist of 3D filmmaking, and is convinced that 3D is the future for all video screens, including handheld devices such as the iPad. "We see our lives in 3D, so why not see our entertainment in 3D as well?" he said.
"3D is not an excuse to make a movie," says Landau. "I see it as the cherry on top. But I think it is going to become ubiquitous."
Landau also says that now anybody can create professional-quality 3D effects as the video recording technology used in Avatar was regular Avid video-editing software. "We shot the left and right eye and put them on two different tracks in the editing suite," he says.
Landau also seems to think that desktop interfaces are aiming for a 3D look and feel. "If you look at a computer display, it has this fake 3D effect with windows stacked on top of each other," he said, adding that it would be better to have a full 3D interface.
3D glasses often put punters off 3D, but Landau thinks that the problem lies not with glasses themselves, but with the types of glasses. "We have to look at glasses as an opportunity. people wear sunglasses at the beach. It's not a problem—it's what you do when you get there."
The glasses themselves could be part of the personal mobile process, perhaps by having them act as digital tickets and payment devices at movie theatres, he said.
"Ultimately we will get rid of glasses but not in the near term." says Landau. He thinks we'll see 3D without glasses in mobile devices before film theatres. "I've seen demonstrations where you create a hotspot," says Landau. This hotspot (essentially the point where you know a person is standing) enables you to project a 3D image for that person.
And because this hotspot is easiest on a mobile device that is held in front of you, he sees it coming first to mobile devices before it even comes to televisions. "It's more difficult in a auditorium with three or four hundred people," says Landau.
Landau also had some thoughts on the micropayments style structure that Apple has introduced through the App Store, and how that will play out with filmmakers.
"I don't know how micropayments will change the industry," says Landau, "but I think it'll create opportunity there is a cost involved in making content and people often forget that. So you have to have some way of recouping your costs. If we want people to create original content for mobile devices, we have to give them a way of recouping those costs. Just like apps."
We asked Jon to put a timescale on when we'd see all devices (including the iPad) in 3D. He laughed and said: "I think that you'll see within five to 10 years mobile devices will be 3D absolutely."