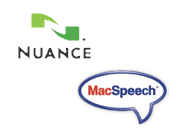 On Tuesday, Nuance Communications, maker of the popular Dragon NaturallySpeaking dictation software for Windows, announced that it had acquired MacSpeech, developer of dictation software for the Mac.
MacSpeech's flagship Dictate product debuted in 2008, where it won a Best of Show award at the year's Macworld Expo. At this year's Expo, MacSpeech showed off a new application for the Mac, Scribe, which allows transcription of recorded audio files.
"We feel the momentum that Apple has in the market right now," Peter Mahoney, senior vice president and general manager of Nuance's Dragon products, told Macworld. "We have been fielding increasing requests from customers and potential customers to have a Macintosh-based product." In a post on the company's Website, Mahoney cited rising Mac shipments and the imminent release of the iPad as reasons for Dragon to expand its presence on Apple's devices.
The deal makes sense from a business perspective: MacSpeech currently licenses Dragon's speech-recognition engine for use in Dictate. "We already had a great relationship with MacSpeech," said Mahoney. Dragon products have long been the category leader on the Windows side, but they've always been notably absent on the Mac, so the MacSpeech acquistion gives the company a stable foothold on the Mac platform.
"We think of it as an extension of the Dragon family into the Macintosh world," Mahoney said of MacSpeech. He said Nuance considered building its own Mac software, but that because of dictation software's intimate integration with the operating system, the company wanted a team that really knew both speech and the Mac OS. "We were happy with the way that they built the product," Mahoney said of MacSpeech's software. "When they moved to the Dragon engine in OS X, they decided to do a ground-up rewrite of the application."
In recent months, Nuance has moved into the Apple ecosystem by producing a pair of free speech-related iPhone apps, Dragon Dictation and Dragon Search. Developing for a mobile environment raises a lot of different challenges, said Mahoney, such as more significant issues of ambient noise and even the way people talk to mobile devices versus desktop computers, but he also suggested there was room for integration between the mobile and desktop software.
While the future of the MacSpeech brand remains in question—Nuance says it will have more to share in the coming months—the two companies will be united with an integrated product roadmap. "We're looking at a ton of really exciting opportunities," said Mahoney.