At a Glance
Expert's Rating
Our Verdict
It's hard to get excited about an iPhone car mount, I know. But if use your phone as a GPS navigation device, some kind of mount is an indispensable add-on, and Just Mobile's Xtand Go is one of the best I've tried.
What makes the Xtand Go interesting is that it's several mounts in one—it works on many surfaces with many types of devices. You can attach it to your windshield using the included suction cup; an innovative design lets you twist the mount with one hand to tighten suction. Or you can slide off the suction cup, adhere one of the three included Go Buttons—a hard plastic piece you attach using the included dual-sided adhesive patch—to your dashboard or desk, and connect the mounting arm to that.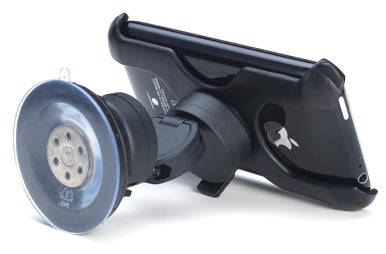 Either way, you're left with a mount with two hinged discs that let you position an attached device exactly where you want. The end of the mount has the same physical design as the Go Button mount—you slide the included iPhone holder (which accommodates only a case-free iPhone) onto the mount, or afix a Go Button directly to the back of an iPhone case, portable GPS, or other device, to connect the device to the mount. (I put a Go Button on the back of my Garmin nuvi GPS and it worked just fine.)
To test out the Xtand Go, I drove around with it attached to the windshield of my car, with my iPhone 3GS clipped in the holder. I was able to position my phone where I wanted it, and the Xtand Go held the phone in place without shaking or vibrating (a problem I've encountered with other mounts).
There are a few downsides to the otherwise excellent Xtand Go. The Go Buttons will not attach securely to silicone iPhone cases, so you must remove your phone from such a case to use the mount. The picture-heavy, Ikea-like instructions (obviously meant to cross language barriers) aren't nearly as clear or useful as they should be. And I wish Just Mobile included more than three Go Buttons in the box.
Macworld's buying advice
Despite a few minor shortcomings, the Xtand Go is well-made and shows an attention to design usually lacking with such products. If the $40 price tag doesn't make you balk, you'll be happy with the Xtand Go.