At a Glance
Expert's Rating
Pros
More flexible than recording this information in-camera
Provides the ability to display time and date without recording this in the video image
Cons
Requires a few steps to learn to make it work
Only works with DV footage
Our Verdict
Many digital video camcorders have the ability to record the date and time information embedded within the video you're recording. This is fine if you want to have this information recorded, but it would be more useful to access this feature only if you wanted to, and not have to record the information permanently so the time and date could never be removed.
Unfortunately, there's no camcorder that does this. However, there is a way to achieve this result if it is something your production will benefit from. ProDate DV by Automatic Duck gives Final Cut Pro and Final Cut Express users access to a filter that lets them access the date and time information recorded as metadata in a DV file. Without this plug-in, Final Cut Pro can't access this information in this way.
The user selects the clip they wish to apply the filter to and then works through several steps before being provided with the date and time information displayed over the front of the video. The bonus being that this information can be switched off at a later date. The positioning, style, font, size, drop shadow and other display attributes of this text can all be customized.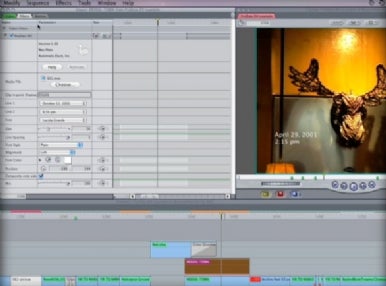 The main drawback, as the name suggests, is that ProDate only works with DV footage. It doesn't work with any of the HD formats or any SD format that's not DV. This seriously limits its usefulness.
Obviously, the facility provided by ProDate is aimed at a niche audience, but it could be useful if you needed to temporarily see the date and time of the recording. For example, it could be utilised for video diaries, or a production where it's necessary to keep track of date and time, or for anyone making holiday videos or a reality TV show. The unique selling point that users can choose when to display the date information.
Macworld buying advice
ProDate DV provides a means to display date and time information only when you want it. It has a serious limitation in that it only works with DV footage. But if DV is your format and you need this function, this plug-in for Final Cut Pro by Automatic Duck is the only game in town.