On Wednesday, Sans Digital released the new TowerSTOR TS4CT, a four-bay tower enclosure with hardware RAID support.
The TowerSTOR TS4CT has four hard drive bays; each bay supports hot swapping for replacing a drive. Supprted RAID levels are 0, 1, 0+1, 3, and 5.
The drive has four interfaces: eSATA, FireWire 400, FireWire 800 (two ports), and USB 2.0. Sans Digital also offers a four-port eSATA PCI-E card for Mac Pros for $229.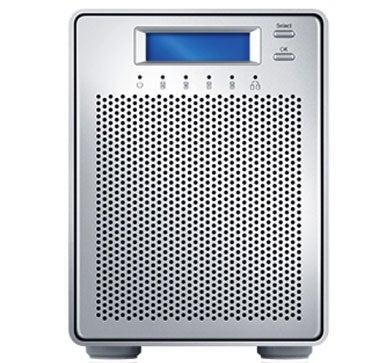 Sans Digital sells the TowerSTOR TS4CT without hard drive mechanisms for $439. The TowerSTOR TS4CT is also sold with hard drives. Sans Digital offers the following configurations.
Four 500GB drives (model TowerSTOR TS4CT2T) for $738
Four 750GB drives (model TowerSTOR TS4CT3T) for $878
Four 1TB drives (model TowerSTOR TS4CT4T) for $938
Four 1.5TB drives (model TowerSTOR TS4CT6T) for $1178
Four 2TB drives (model TowerSTOR TS4CT4T) for $1638
The company states that SATA II drives are used in its bundles, but the mechanism manufacturer is not listed.
Sans Digital also released a 1U rackmount version of the TowerSTOR TS4CT called the EliteRAID ER104CT. It is available without drives for $550. Hard drive bundles for the EliteRAID ER104CT are priced between $849 and $1749.