On Tuesday, Capcom announced that Street Fighter IV would be coming to the iPhone and iPod Touch. Due to hit the App Store in March (the price and release date of the title haven't been revealed), Street Fighter IV is the latest entry in the iconic fighting series that first debuted in 1987.
According to Capcom's press release, the game will feature characters from across the Street Fighter universe, including famous characters from the early entries of the series as well as some of the newly introduced fighters.
Street Fighter is very much a purists game, relying on balanced characters, a deep combat system, and responsive controls. To that end, Capcom seems to be putting a lot of effort into their control system. Street Fighter IV will feature a robust control set with a high degree of customization. The game will offer a virtual D-pad interface as well as a customizable "visual pad" interface that will allow players to reposition the buttons and d-pad wherever they see fit. Players can also configure the transparency of the controls to ensure the optimal experience.
Street Fighter is ultimately about one thing: combat. To compete against your fellow warriors, Street Fighter IV will offer multiplayer via Bluetooth. So far, Capcom hasn't commented on the possibility of online or Wi-Fi multiplayer, but Bluetooth is a good start. Street Fighter already has a built in community of dedicated player, so if there is ever a title on the iPhone where pairing up players for matches is essential, it's Street Fighter IV.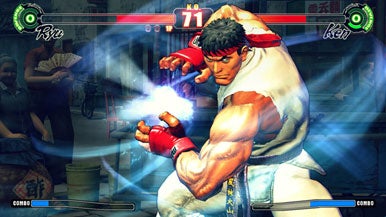 For those new to the series, a new Dojo practice mode will walk players through the finer points of the combat system. After mastering their punches and kicks in the Dojo, they can try to beat the single player campaign or try their luck against live opponents in multiplayer.
"This is Street Fighter 4 in all its glory… uncompromised and awesome," said Capcom Takeshi Tezuka in a press release. "We're particularly proud of the multiplayer feature as it remains true to the series arcade roots by allowing players to go head-to-head over Bluetooth in spectacular fashion."
Street Fighter IV was one of the most hotly anticipated fighting games to grace consoles this past year. It has been perceived as a major leap forward for the franchise while still staying true to its roots. Hopefully, the iPhone platform can handle the complex counters, jabs, fireballs, and throws of this iconic series.