Phantom Mansion: The Red Chamber by Zattikka is the first chapter of a seven-chapter puzzle game. You are Hector, the Spectre Detector, and your mission is to collect souls while avoiding zombies, skeletons, broken floors, and lava. Your weapons are your brains and your ability to push around metal boxes (zombies and skeletons cannot push metal boxes, so you can effectively trap them).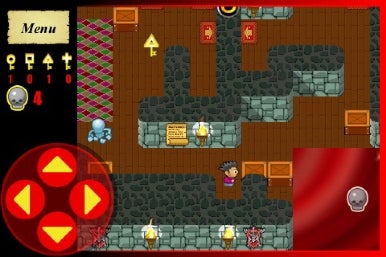 Hector is controlled via a virtual joypad on the left of the screen (though through the options menu you can flip the joypad to the right). The controls are fairly easy to get used to, but not as responsive as I would like—and since this game requires a lot of precision, that's not a good thing. I too often found myself accidentally hitting the wrong arrow and making a fatal mistake.
Hector's job is to collect souls (which are depicted as transparent skulls) despite the obstacles in his way. These include moving foes such as zombies and skeletons; they move between two points, so they're not hard to avoid, but you can also trap them by pushing metal boxes in front of them. You'll also have to navigate cracked floors (depending on the level, you either have one or two chances to walk over them before they give way), locked doors (keys with corresponding shapes will open each door), and lava (wooden boxes can be pushed into lava to make a bridge).
The graphics are very well-done—Hector, the zombies, the skeletons, and the souls are all adorable little haunted-mansion-type figures—although it's sometimes hard to figure out where you're walking. Precision is everything in this game (one mistake could lead to death), so this ambiguity is unfortunate. If you make one mistake in a level (e.g. a zombie touches you or you push a box the wrong way), you must restart the entire level—annoying, as the levels get longer and more complex as the game goes on. (There are 22 levels in all.)
Phantom Mansion: The Red Chamber is cute and somewhat elementary—the levels are not particularly hard to figure out, but some are pretty tedious. I was looking for more of a challenge: the entire game can be beaten in an hour—providing you have a stellar attention span. If you don't have such an inclination to finish the game in what sitting, Phantom Mansion has some limited replayability—it's a puzzle game that doesn't take a ton of brainpower.
[Macworld contributor Sarah Jacobsson has lots of braaaaaaains.]