Photo Brush, developed by Bobby Cronkhite Software, lets you easily add design elements to your photos like hearts, skulls, flares, birds and much more.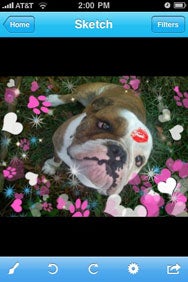 To get started, you can take a new picture from within the app or select an existing photo from your camera library to work on. Once your picture is loaded, you tap the brush icon to select your design elements. Photo Brush has a ton of different elements to choose from, with everything from stars, lips and peace signs to splatters, smiley faces and music notes. Each element can be painted in 12 different colors. Select more than one color, and the app will randomly paint in each of the colors you've picked.
You can manually control the size, transparency, and rotation of each element painted by adjusting sliders in the settings menu; select random for any one of these settings, and Photo Brush will randomize that particular setting.
The app has undo and redo buttons if you make any mistakes. Once you're finished, you can save or e-mail your creation at up to full resolution. And if you ever get tired of the elements Photo Brush ships with, a $1 in-app purchase adds more brush packs.
Photo Brush also has a few filters you can use, such as black and white, negative, and others. These filters only seem to affect the base photograph, though, leaving all your design elements as they are.
Photo Brush works pretty well though I did notice some lag when painting quickly or undoing an action; still, the lag wasn't too bad. All in all, the $1 app is fun to play with and can produce some interesting results. Photo Brush has a free lite version for you to try out; it has all the same functionality as the paid version, though only a handful of elements are at your disposal.
[Tim Mercer is a technology enthusiast, graphic designer, and blogger, whose blog, digital-artist-toolbox.com, offers free resources to the digital artist and graphic designer.]