RSSpeaker, a news app from Altum Design Studios, promises to combine the technology of custom RSS feeds with the ability to translate text to speech using software from Acapela. The end result turns your iPhone or iPod touch into a personal news anchor with what the developer bills as a high-quality voice.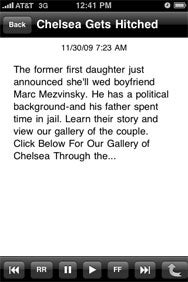 All this happens, but with varying degrees of success. RSSpeaker's interface is extremely simple, which works to its advantage. You have a list, and you tab the plus (+) button to add feeds—that's about it. The adding process was a little tricky, though. I could easily add feeds from the New York Times and CNN, and I could even get The Daily Beast. But SFGate and the Washington Post were unverifiable for whatever reason.
Once your feeds are saved, all you have to do is press play to convert them from text to speech. But the end result feels wanting: RSSpeaker only picks up the headlines and short blurbs found on the sites' homepages, so you end up with a one-paragraph description of the story that you could probably read faster than the time it takes to listen.
The app is ideal for use when you're driving or your eyes are otherwise engaged, but I imagine I'd find myself trying to take notes on which stories are interesting so I could look them up later. That pretty much defeats the whole purpose. On your computer, an RSS feed lets you scan story blurbs and click to read the full versions when they pique your interest, but RSSpeaker doesn't go that far. If there is a way to get full stories on RSSpeaker, I couldn't figure it out, which still speaks to flaws in the app's design.
Unfortunately, the app's pleasant female voice still sounds robotic, despite the fact that you can speed her up a bit to match the cadence of a regular person. Sometimes she sounds a bit like a monotone NPR broadcaster reading hard news, except that she stumbles over pronunciation, making the app an irritating listen.
If you're fine with short descriptions of a high volume of stories, RSSpeaker is for you. But if you need more than one paragraph of information, you won't be very satisfied with this $3 download.
[Meghann Myers is Macworld's editorial intern.]