Editor's Note: The following article is reprinted from the Today @ PC World blog at PCWorld.com.
Sony announced two additions to its 2010 Cyber-shot camera lineup, both of which should be on display at the PMA 2010 show in Anaheim, Calif., next week.
The Cyber-shot DSC-TX5 is a slim, fashionable camera that's built to withstand shock, ice, dust, and water. The Cyber-shot DSC-H55 is a younger sibling to the 10X-optical-zoom Cyber-shot DSC-HX5V, announced earlier this year. Both cameras are slated for availability in April.
Cyber-shot TX5: Ruggedized camera with style
The Cyber-shot TX5 measures less than 0.75 inch thick, and although it looks just like Sony's fashionable Cyber-shot TX1, Cyber-shot TX7, and Cyber-shot T90, it's built for sheer resilience.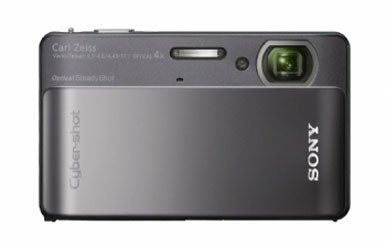 The touchscreen-operated TX5 is waterproof down to 10 feet underwater, shockproof to drops as far as 5 feet, freezeproof to 14 degrees Fahrenheit, and dustproof. Sony says that the camera's 3-inch touchscreen is operable on both dry land and underwater (a claim we're excited to test out).
Its optically stabilized wide-angle lens has a 4X optical zoom range (25mm to 100mm). Like the cameras Sony announced at CES 2010, the TX5 will also handle both SD/SDHC and Memory Stick storage cards.
Key features include an enhanced version of the Sweep Panorama mode found in several of Sony's recent cameras; with the camera in this mode, the user can press the shutter button, pan from side to side, and create an instant panoramic image. This is definitely another feature that we want to test underwater.
The 10-megapixel TX5 also shoots 720p high-definition video, offers in-camera features such as Smile Shutter and a high dynamic range mode, and has a low-light-optimized Exmor R CMOS sensor. All of that makes the TX5 an enticing option for anyone seeking a point-and-shoot that they can use on a day-to-day basis as well as in more extreme settings.
The $350 Cyber-shot DSC-TX5 will come in black, silver, red, green, and pink.
Cyber-shot DSC-H55: 10X optical zoom on a budget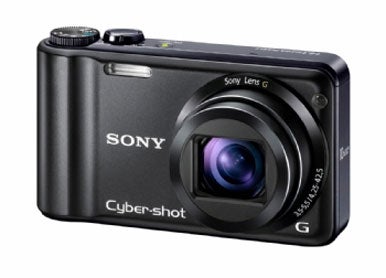 The new Cyber-shot DSC-H55 offers much of the same high-end hardware as the Cyber-shot DSC-HX5V announced at CES, but it lacks that model's GPS/ TransferJet connectivity and CMOS sensor.
Despite measuring less than an inch deep, the 14-megapixel H55 serves up an optically stabilized 10X-optical-zoom lens that reaches from 25mm wide-angle to 250mm telephoto.
Instead of the low-light-optimized CMOS sensor found in the HX5V, the H55 has a 0.43-inch CCD sensor to go along with its high-zoom G Lens. Sweep Panorama mode, 720p high-definition video recording, a 3-inch-diagonal LCD screen, and SD/SDHC compatibility (in addition to Memory Stick) are all in the mix, as well.
The Cyber-shot DSC-H55 will be available in black or silver for $250.