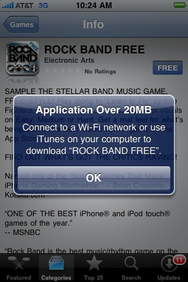 In the good old days, you could download any app you wanted onto your iPhone—provided it wasn't more than 10MB while you were using the 3G network. But that was the old Apple—this is the new Apple: no limits. Well. Larger limits, anyway. As the folks at Pocket Gamer mention, Apple's raised the limit on App Store downloads over the 3G network to 20MB.
While Pocket Gamer surmises that this may have something to do with the soon-to-be-incoming applications for the iPad, I'm wondering if there's more to it. For one thing, the new higher limit applies not just to the App Store, but to media downloaded from the iTunes Store as well. Then again, since the store all uses the same infrastructure, it may just be an across-the-board change.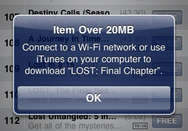 Still, it always seemed like the 10MB limit was there to prevent clogging up the cell network with large downloads. If that ceiling's been jacked up to 20MB, does that mean bandwidth is no longer on the endangered list?
This isn't the first sign that AT&T and Apple have been loosening up on bandwidth requirements. Late last month, Apple finally started allowing VoIP applications to make calls over the 3G network and just a couple of weeks back, video-streaming app Slingbox finally made it onto AT&T's network as well. So far, there's yet to be any sign of an imminent bandwidth apocalypse, despite the fears of Apple's competitors.
Is AT&T finally putting into place those much vaunted improvements it's been talking up for months? Could our long national nightmare of choked bandwidth finally be at an end? Will we once again be able to make calls from the city and frolic, carefree, in the streets?
We can only hope. But for now, we'll have to content ourselves with downloading all the 20MB applications, podcasts, songs, and videos that our iPhones can hold.