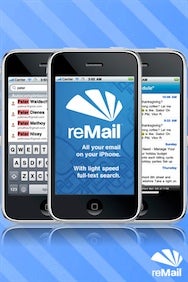 Once upon a time, there was an app called reMail for the iPhone, as Macworld and Google's cache can prove. reMail offered very fast full-text searching of your Gmail or IMAP e-mail account. But as you can tell from my use of the past tense, reMail will now live mostly in our memories.
That's because everyone's favorite not-at-all evil search giant Google has acquired the app, and apparently the first order of business, once reMail developer Gabor Cselle joined Google, was to pull reMail from the App Store permanently. It's worth noting that Cselle already worked at Google once, as an engineering intern on Gmail, and he's now rejoining that team—cue the dramatic music.
It's certainly possible that Google pulled the app because it intends to release an official Gmail app with Cselle's help. Or the conspiracy theorists could be right and Google's axing the app because it's just too good, and the company wants to make Apple suffer. (Well, it's not like the company's motto is "don't be petty.")
Whatever the case, if you already own reMail, you're in luck: All of the app's premium, extra-cost features are now available to everyone who has it installed. If you're like me, though, you can only look longingly at screenshots of the app in action, and wonder at what might have been.