On Thursday, Corsair released the Flash Padlock 2, a USB flash drive with built-in 256-bit encryption.
The Flash Padlock 2 can be locked by using a personal identification number (PIN). You can program the device with a PIN that's four to ten digits long. You must enter the PIN before the drive can be used on your Mac.
If you can't remember the PIN, you can reset the drive, which will erase the stored data. The Flash Padlock 2 also has a lockout feature that prevents the drive from being accessed for two minutes if multiple failed login attempts are made.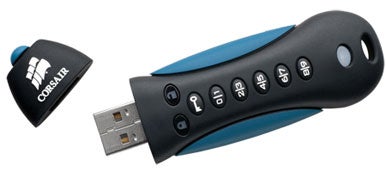 The Flash Padlock 2 does not require software on your Mac to work. It can also be used with Windows and Linux computers.
The Flash Padlock 2 is available with 8GB of storage capacity for $55. Corsair includes a limited 10-year warranty.