Developed by Youoco.com, Fallen EP-1 is the first episode of a new survival-horror game for the iPhone. Opening with a nerve-wracking sequence in which a group of soldiers are killed by a mysterious dark creature, Fallen EP-1 is every bit as creepy and edgy as Silent Hill or Resident Evil. You are a lone prisoner, armed only with an iron bar, struggling to escape a prison and "find answers" in a series of increasingly difficult puzzles.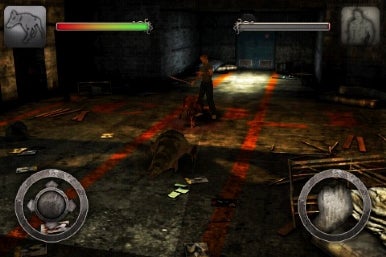 The game is a survival-horror RPG, in which you must escape the prison by using your brain (and the items that you've picked up on your travels). The main game controller is a virtual joypad that is intuitive to use but a bit clumsy in combat situations—making survival a real challenge. The puzzles are just challenging enough, and utilize the iPhone's touch screen interface quite well—for example, you must "turn" keys in locks. The touch screen can be a bit of a hassle at times, though, as some of the puzzles require very precise movements that are hard to accomplish with the tip of your finger.
The game is pretty fast-paced—you're constantly trying to escape a room while rabid zombie dogs and giant alien slugs try to kill you. To make the Fallen EP-1 even more challenging, you only get one health pack for the entire game. You'll have to use it wisely. (I got killed after a particularly nasty confrontation with a space-slug, and had to start over.) There is a lot of backtracking when it comes solving puzzles, which is to be expected from this type of game (though a bit frustrating for those who are playing just for the cut scenes).
The graphics are awesome and remind me of games like Silent Hill. The atmosphere is especially creepy with background music peppered with random screams. The game is rated M for Mature, and I can certainly see why—some of the cut scenes freaked me out more than they should have. (Of course, I'm a big wimp when it comes to these kinds of things.)
The game play itself is rather short—it took me just an hour and a half to get through, and I expect a more experienced gamer would be able to complete it in under an hour. Of course, the game is titled "EP-1" for a reason—it's a franchise that promises to "be continued."
Fallen EP-1 loses some points because it kept crashing on my iPhone 3G (very frustrating if you haven't saved your progress), the controls are clumsy, and it is only one episode of a larger game. Otherwise, it's a great representation of the survival-horror genre, fun to play, and arguably worth the $4.
[Sarah Jacobsson hates rabid zombie dogs.]