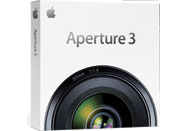 Last week, Apple released Aperture 3, a major new version that offers "over 200 new features," according to the company's Aperture page. Before you rush to upgrade, though, you might want to check out Apple's Support site. Apple has already posted more than two dozen Knowledge Base articles citing various problems that you may confront with Aperture 3.
Fortunately, most of them are minor or have simple workarounds. For example, one article notes that the Aperture import window will show video and audio files that have already been imported, even if the "Do not import duplicates" option is enabled. The option only works with photos for now. In another article, Apple confirms that JPEG preview images may display incorrectly in the Viewer. The solution here is to select the affected image, click the Photos menu, hold the Option key, and choose Generate Preview. Yet another article explains how to avoid a crash on launching Aperture. Essentially, you have to remove Aperture-related files from the /Library/Application Support/ProApps folder and re-enter your serial numbers when prompted.
Over at the Aperture section of Apple's Discussions forums, you'll find an assortment of users' reports of problems, several of them more serious than the ones covered in the Knowledge Base. (A word to the wise: Don't necessarily take all reports in Discussions as fact. A user may mistakenly attribute a problem to a particular program when there is really another cause. Similarly, for various reasons, a problem may affect only a subset of users of the relevant software; you may not be in that subset. Still, if a reported problem and solution receives numerous confirmations, it is at least worth checking out.)
One such potential problem— noted elsewhere on Macworld.com—is a memory leak. In the worst cases, this leak may lead to a significant slow down in your Mac's processing speed, as well as the filling up of the free space on your hard drive (as the size of the virtual memory "swap" files on your drive grow larger and larger). Another thread describes frequent hangs and crashes with Aperture; these appear to be due to the same basic memory-related cause.
As you might surmise, the less RAM you have installed in your Mac, the more likely you are to see these symptoms. Some (but not all) users found that running Aperture in 32-bit mode (as selected via Aperture's Get Info window) eliminated the problem. Other workarounds are suggested, but none seem to offer a guaranteed permanent fix.
A second problem is that Aperture 3 may not show up in the Media Library of other applications (such as in Pages or Keynote). Many users found success here either by installing Aperture SlideShow Support Update 1.0 or by using the Generate Preview command on all of their photos.
For more general troubleshooting help with Aperture 3, read over the troubleshooting basics offered by Apple. Especially note the advice to try the Aperture Library First Aid tools, accessed by holding down the Command-Option keys when you launch Aperture.