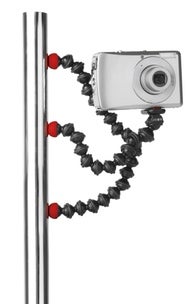 Joby had a hit product with the flexible Gorillapod tripod. Since then, Joby's come up with several variations, colors, types, and stands for all your camera posing needs. What could make a great product even better? Magnets, of course.
Gorillapod Magnetic is a Gorillapod with magnetic feet. The magnets are made out of neodymium, a powerful alloy used in electronics ranging from headphones to the motor of a Toyota Prius. With that super-magnetic strength, the Gorillapod Magnetic can hold up to 11.5 ounces of weight, perfect for compact digital cameras, mini video cameras, and iPhones. Joby has used similar magnetic feet once before on its Gorillatorch flashlight.
If you're not already familiar with Gorillapods, they're tripods with fully-articulating legs and rubberized ring and foot grips, used to firmly hold your camera on a variety of surfaces. A quick release clip makes it easy to slip your camera in and out of the tripod, while the lock ring provides extra security to keep your investment in place.
The Gorilapod Magnetic means you can now fulfill your fantasies of taking timed pictures while driving by placing it inside your car. Or you could stick it onto a lamp post to get some sweet overhead angles. You can even see who's been stealing your homemade muffins from the refrigerator door, or attach your camera to a disco ball for a groovy perspective.
While the possibilities of a Gorillapod with magnets may be endless, I personally draw the line at computer screens, ceiling fans, and rockets. Life is too short, and this equipment does not come cheap.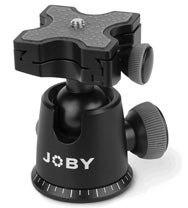 Joby also announced a nifty addition to their professional line of equipment, the Ballhead X. The new ball head can be used with any tripod, but was made specifically for the Gorillapod Focus, Joby's heavy-duty tripod made for larger camera rigs, cameras with large zoom lenses, and video cameras. The Ballhead X can support equipment weighing up to 11.1 pounds, and it makes it easy to pan, titlt, and rotate a camera without having to adjust or move your tripod.
Gorillapod Magnetic costs $25, and works with all Gorillapod accessories, including the iPhone case that comes with Gorillamobile for 3G/3GS. The Ballhead X costs $80 and will begin shipping in April.