At a Glance
Expert's Rating
Our Verdict
VLC Media Player has long held the crown of "best free, handle-anything media player" for Mac OS X. But these days, there are a number of quality alternatives, including MPlayer OS X Extended (which we'll be looking at soon) and today's Gem, Movist. Movist has been around since 2007, but it's made some big development strides over the past six months or so. The current version offers VLC some much-needed media-playback competition thanks to an interface that I find to be more attractive and easier to use.
Like VLC, Movist is based in part on FFmpeg, a cross-platform set of codecs that lets you play a plethora of media formats not supported by OS X's own QuickTime technology. Movist also provides many playback features you won't find in QuickTime Player, as well as some features QuickTime Player lost in the transition from version 7 to Snow Leopard's version X.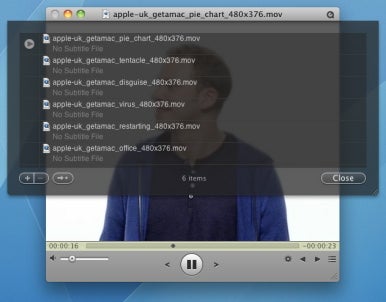 For example, Movist offers a wide range of playback navigation options, including variable-speed playback, frame-by-frame playback, configurable-second skips, and range playback (where you set the beginning and end of a clip). There's also a built-in screenshot feature that lets you save an image of the current video frame.
As with most media players, you can choose the size of the video-playback window; however, when in fullscreen mode, Movist lets you choose how the movie fills the screen—by expanding or cropping. You can also change the aspect ratio of any playback window; Movist shrinks or stretches the movie to fit the chosen aspect ratio. You can even set a playing movie as your Desktop background.
Movist also offers the most-flexible subtitle controls I've seen in a media player: After choosing the subtitle track, you can customize the fonts, the vertical margins, the synchronization, and the position of subtitles. You can also manually open or add subtitle files.
Another great feature is Movist's fullscreen-navigation mode: Double-click the Movist icon in a blank Movist playback window (or choose File -> Full Screen Navigation or press Command+N), and Movist takes over your screen, letting you browse your ~/Movies folder using an interface very much like Apple's own Front Row. (Movist's preferences include settings for browsing video in iTunes, as well, although iTunes-hosted videos didn't show up in this interface for me.)
As with VLC, you can create a playlist of videos that play sequentially and, if desired, repeat. However, you can't save playlists, and if you drag a video file directly into Movist, rather than into your playlist, you lose any playlist you've created.
In my testing, Movist handled most video files with aplomb, although on rare occasion the program crashed when viewing a video that VLC played without issue. I like that for movie formats that both FFmpeg and QuickTime can handle, Movist lets you switch between the two to see which provides better results. Movist also provides lots of other settings (though not quite as many as VLC), as well as support for the Apple Remote.
Movist also has a few other drawbacks. For example, you can't view a VIDEO_TS folder (from a ripped DVD) directly; you must open the folder and drop the individual .VOB files into Movist. And you won't find many of VLC's more-obscure settings or its audio- and video-tweaking options. Movist's biggest shortcoming, however, may be that it doesn't have the kinds of documentation and developer community you get with VLC.
Still, Movist has replaced VLC for much of my day-to-day viewing of video that QuickTime can't handle—and even some that it can.
Want to stay up to date with the latest Gems? Sign up for the Mac Gems newsletter for a weekly e-mail summary of Gems reviews sent directly to your Inbox.