On Friday, leading iPhone game developer Ngmoco announced its lineup of launch titles for the iPad—iPhone and iPod touch gamers will be familiar with some of these titles, as they've already debuted on those platforms.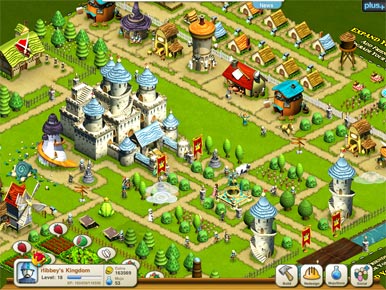 CastleCraft (free), Charadium ($5), Flick Fishing HD ($3), GodFinger (price TBD), NBA Hotshots HD ($3), Warpgate HD ($8), and We Rule (free), all make their way to the App Store, thanks in large part to the recently acquired Freeverse studio.
"We are incredibly excited about iPad and we believe it will have the level of impact that iPhone and iPod touch continue to have in mobile gaming," said Neil Young, CEO of Ngmoco. "Humans react to what they see, what they hear and what they touch and iPad radically reshapes how players feel about interacting with games. The bigger screen and innovative Multi-Touch capabilities make our games more immersive than we ever imagined."
Ngmoco has a large game library, and their iPad releases reflect this diversity. GodFinger is a cartoonish god-simulator where you can create followers, move mountains, and either aid or strike down the citizens of the little planet you control. The iPad augments the already intuitive and extensive powers you're granted, allowing you more freedom to shape the lives of your worshippers.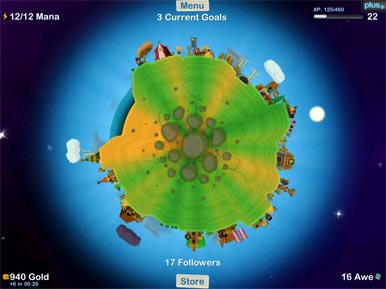 You can think of We Rule as a medieval version of SimCity. You command kingdoms full of farms, shops, castles, wizards, and loyal citizen. You'll oversee harvests, collect taxes, and shape the landscape of your ideal kingdom. We Rule also has a massive social component; according to Ngmoco's press release, you can trade with and aid neighboring realms via the "Plus+ Network." The iPad version in particular will feature more "drag and drop" interactivity, allowing for greater control over your building and a more expansive view of your kingdoms.
Meanwhile, Charadium is a fast-paced "draw-and-guess" multiplayer game. Fans of Pictionary may be familiar with the concept; in Charadium, players draws an image with their fingers while their teammates must guess the word before time runs out. It looks like a remarkably smart use of the iPad's touchscreen interface and may serve as a precursor to other boardgames making the jump to the iPad.
You can explore the galaxy with Warpgate HD, an expansive space conquest game. According to Ngmoco, Warpgate on the iPad will feature over 172 different starships to unlock, over thirty-five star-systems to explore, and over 100 main quests to complete. Ngmoco hopes the game's high-end graphics and deep gameplay will set it apart in a market already brimming with star apps.
While We Rule is primarily a medieval social city-building app, CastleCraft is a militaristic massively multiplayer online game where players try to build up their cities in a quest for realm domination. Players will build up their cities, engage in quests, form alliances, train up to sixteen different types of military, resource, and technology units. Developed by Freeverse's studio, CastleCraft will allow players to chat with and battle against friends and other players worldwide in an epic battle for global domination.
Flick Fishing HD, from studio Strange Flavour, is a graphically-stunning fishing game with real "flick-motion" casting. The iPad version offers a newly revamped casting method and improved graphics. Unlike the iPhone version, all in-app purchases will be unlocked in the iPad version, including the Fishing Pro pack and MegaGuide to reveal all the game's hidden quests and tricks for landing the biggest fish.
Finally, NBA Hotshot HD should entice sports fans to give the iPad gaming market a try. NBA Hotshot HD is an officially licensed arcade-style hoop-sinking game. While not a full basketball simulator, players can still enjoy the novelty of racing against the clock to score baskets and earning a high score. The iPad version has some extra content as well, including more basketballs to unlock, a "WNBA-themed machine" and better graphics.