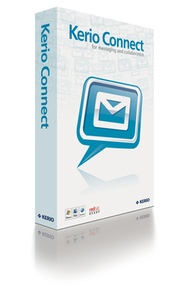 As of version 7, the critically acclaimed Kerio MailServer has become Kerio Connect. With its ability to handle address book, calendar, e-mail and to-do services, Kerio MailServer has already had a reputation for being a very adaptable solution for small to mid-size businesses that only require one groupware server. For Kerio Connect, Kerio hopes to turn this software into an ideal solution for larger companies with multiple groupware servers.
With the new distributed domain feature, several servers running Kerio Connect 7 can be combined into a single cluster to efficiently divide up resources and coordinate information. Users connect to that cluster and treat it as if it were a single groupware server, even if one server's in London and another's in Timbuktu. Now all of the assets are automatically kept in sync, the servers lend enough power to keep up with everyone's needs, and everything's running like clockwork.
Kerio Connect 7 also introduces CardDAV access for supported clients such as Mac OS X Snow Leopard's Address Book, allowing the system-wide Address Book to sync directly with Kerio Connect's contacts. Server administration is now completely Web-based and officially supported for Safari, Firefox, and Internet Explorer. Thanks to Exchange ActiveSync Push technology, there's now support for Web OS and Android devices too. Finally, Kerio Connect 7 can set up retention policies to automatically delete old e-mail messages to keep things tidy and conserve precious disk space.
Pricing for new purchases of Kerio Connect 7 begins at $450 for five users and $120 for every five extra users. With McAfee Antivirus protection included, that number rises to $540 for five users and $144 for every five extra users. Subscription renewals only cost 30 percent as much and all purchases cover a full year of service and upgrades. Kerio Connect 7 runs on all versions of Mac OS X as far back as 10.4, as well as Windows, Linux, and VMware or Parallels virtual appliances.