In the crowded weather apps space, there are not that many ways to set yourself apart from the pack. Having a known brand—such as The Weather Channel or Accuweather—certainly gives you a head start. Specializing in targeted information, such as surf, snow, or aviation conditions, can be useful. So by dubbing its app iWeather Complete Pro, MyFirstiPhoneApp implies that this $1 offering is going to provide all the information you need to know about the weather.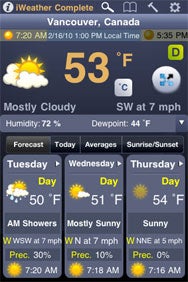 iWeather Complete Pro does pack in a whole lot of weather information. But its main drawback is that it tries to pack most of this information into its home screen. Along with current conditions (which include temperature, wind speed, wind direction, humidity, dew point, and time of sunrise and sunset), you also get three days worth of forecasts on the bottom of the screen and tab buttons that summon up today's hourly outlook, historical average high and low temperatures, and the projected time of sunrise and sunset for the next nine days. (Indeed, nine is the magic number with iWeather Complete Pro. You can scroll at the bottom to get nine days of forecasts—in a novel touch, the top part of the screen remains stationary—and historical data is also available for out to nine days.) Daytime forecasts are the default, but by clicking on a tiny arrow next to the day, the day's panel expands to include both day and night forecasts.
Perhaps inevitably, pressing that tiny arrow button to get the desired response is not easy; the button area that needs to be activated is simply too small to be consistently effective.
The good news is that iWeather Complete Pro does what it tries to do well. The app presents information in a clear and distinctive enough manner for you to scan and easily read in spite of all that screen clutter. Most information you'll need to do your planning is included.
It's easy to create (or "bookmark") a list of towns and cities that you want to be able to access quickly; every time you bookmark a new place, the App pops up a yes/no question screen asking whether you want to make that location your default. You can edit that list of bookmarked places; unfortunately all this means is that you can delete locations. You can't change the list's order, which simply lists places in the order you bookmarked them. This certainly isn't atypical of weather apps, though, and it's not a major flaw. However, if you compile a list of 10 or more places, it can become a bit confusing.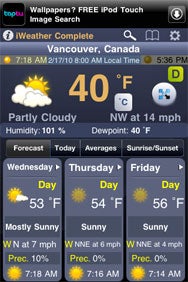 The free version of this app, dubbed iWeather Complete, provides almost exactly the same functionality as the pro version. There are two significant differences, however. The free version is ad-supported, and the ads take up enough space at the top of the screen to make the app even more cluttered. The other difference is that weather is forecast out only seven days, instead of nine days as in the Pro version.
If you like lots of weather information packed tightly into a single screen, then either iWeather Complete Pro or iWeather Complete is worth a look. However, it's important to understand that there is one missing component in both apps that makes them feel not quite complete. Neither version of iWeather Complete includes radar images—a feature that many weather aficionados consider crucial. Radar in motion is included in many inexpensive and some free weather apps, such as the free offering from The Weather Channel, and its absence here is notable, especially given the name of the app.
[Jeff Merron is a freelance writer and editor living in North Carolina.]