At a Glance
Expert's Rating
Pros
Wireless access to e-books and daily newspapers
Reat multimedia features
Cons
Story interface is clunky
Store interface is clunky
Newspaper support depends on AT&T coverage quality
Our Verdict
"A great read is a few seconds away," proclaims the Sony Reader Daily Edition screen as it tries to connect to the Sony store—or to do anything else involving the unit's wireless Internet access. Unfortunately, in my tests, I had to wait a lot longer than a few seconds.
That's too bad, because the Sony Reader Daily Edition has content that I would love to download if doing so were less of a hassle. The Daily Edition is Sony's first e-reader to provide wireless access to content (via AT&T's 3G wireless network), and Sony has sought to capitalize on that feature by offering not just a bookstore but wireless delivery of newspapers, either by subscription or as single copies. Several big names in daily print U.S. journalism—including the New York Times and the Wall Street Journal—are for sale in Sony's Reader Store, which you can access from the device.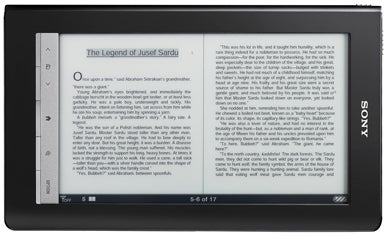 But 3G wireless service was spotty at best at my home in downtown San Francisco. Whatever I tried to do, I received frequent messages advising me to check whether I'd turned on the wireless switch (you get both a hardware switch on the bottom edge of the device and a software setting for toggling the switch on). I managed to subscribe to the digital New York Times through the Sony store, but at first I couldn't download it: A message reported that the download had been interrupted and needed to be restarted from my account page. (In other locations, though the unit had fewer foibles, it was painfully slow to connect.)
By the way, you can transfer commercial and free content to the Reader after using the included USB cable to attach the device to your Mac or PC. In fact, this is the only way to patronize bookstores other than Sony's (you can buy from any e-tailer that supports the ePub format with Adobe Content Server 4 encryption). Like other Sony Readers, the Daily Edition also supports AAC, BMP, GIF, JPEG, MP3, PDF, PNG, RTF, and TXT file formats, plus Sony's old BBeB e-book format, in case you have older e-books on hand.
Wireless services and a slightly larger (7-inch-diagonal) E Ink screen that supports 16 shades of gray are the key distinctions between the Daily Edition and the Touch Edition ( ) released last fall: The latter has a 6-inch-diagonal, eight-shade-grayscale display. But the extra real estate mainly extends the height of the Daily Edition, so it seems rather tall and narrow for an e-book reader. It's also a tad fatter (0.6 inch thick) and heavier (12.75 ounces, including the included black cover) than the Touch Edition (0.4 inch thick and 10.1 ounces). Sony offers a cool cover with a built-in reading light for the Daily Edition, as a $60 option.
Like the Touch Edition, the Daily Edition has a touchscreen that you can manipulate with your fingers or with a stylus that slides into the device's upper left corner. You can turn pages forward (but not backward) with a finger swipe, and you get to choose whether to use left-to-right or right-to-lift action for this purpose. This feature generally worked well, but the device was unresponsive to my swipes intermittently, and ultimately I found it less annoying to depend on the hardware page-turn buttons below the display.
You fire up the Reader by sliding a button on the upper left edge. Doing so brings up a Home screen with large icons, starting with a thumbnail cover of your most recent reading material on top and your other available books in the middle. At the bottom are icons for accessing your periodicals, other collections, and notes; and below them are tabs leading to the online bookstore, applications, and settings. Navigating among options seemed a bit slow, but not as slow as on other devices.
Sony supplies several built-in applications—an image viewer, a handwriting utility for capturing notes or doodles, a memo pad, a dictionary, and a music player. I particularly liked the handwriting utility, which did a nice job of interpreting my scrawls and sketching. The Reader remains primarily a reading device, but the included apps complement that primary purpose (the dictionary, for instance, can come in quite handy).
The device comes with a standard headphone jack, and music sounded good through my earbud headphones—this Reader, unlike some others, has enough oomph to deliver loud audio when turned all the way up. (Sony has indicated that it will introduce additional mobile apps going forward.)
I was less impressed by the shopping experience that the device permits. The store took a while to display, and when it came up, it was neither intuitively organized nor particularly attractive. At the top were several text links, some of them rather cryptic: Subjects (which lists general book categories), Sections (which includes things like bargain-priced books), Periodicals (newspapers, for example), and Bundles (several books sold together). Next to these was an unappealing reproduction of a New York Post front page.
Below came icons for various best-sellers and then for new arrivals. And below those, a small banner ad appeared. Sony clearly has some distance to go before it catches up with Amazon's excellently organized Kindle storefront.
The newspaper features, though, are compelling. The longer display dimensions mean that you can view more newspaper headlines on a single page. And if you subscribe to a newspaper and leave the device's wireless adapter turned on overnight, you'll have the new day's edition waiting for you when you wake up (Sony says that the online Wall Street Journal even offers an automatic afternoon update for its Daily Edition customers). You can also opt to keep several days' worth of content loaded on your Daily Edition, so you can catch up on the news at your leisure (the device has approximately 2GB of internal memory and can accommodate an SD or Memory Stick expansion card if that's not enough).
But if you do keep your wireless service active overnight, be sure to keep the charging adapter connected so you can replenish the power that the wireless radio gobbles up. Most crucially, you should check the strength of the AT&T 3G signal in your neighborhood, because the whole scheme depends on robust 3G service. It's one thing to head over to an area with good reception when you feel like buying a book, but quite another thing to miss out on your daily newspaper because of poor AT&T reception. And I do blame AT&T, since I had no trouble downloading content to my older, Sprint-provisioned Amazon Kindle 2 ( ).
Macworld's buying advice
Sony's first wireless e-book reader, though pricey, offers first-rate newspaper support—but only if AT&T's service cooperates. Oddly, even though the Daily Edition uses a GSM service, it doesn't currently support international roaming (which is the best reason to go with GSM technology). For now, at least, you can purchase and download content wirelessly only when you're in the United States and within range of a decent AT&T signal. Since the newspaper support is the best reason to shell out $400 for this device, I'd be wary of making the investment unless I was confident of the quality of the available network support.