At a Glance
Expert's Rating
Pros
EPub support ensures plenty of content
Extremely lightweight
Intuitively designed
Lots of font sizes
Cons
Lacks extras such as dictionary and annotation
Our Verdict
If you've been waiting for a no-frills e-book reader that's scarcely heavier than an iPhone, check out the Cybook Opus from Bookeen. Available in an array of colors, and weighing just 5.3 ounces and measuring less than half an inch thick, the Opus wrests the e-reader portability crown from the Sony Reader Pocket Edition ( )—unfortunately, its $199 price is a bit larger.
And despite its appealing design, the Cybook Opus falls short on features that you'd get at a somewhat higher price on the Amazon Kindle 2 ( ) or (for that matter) on the Barnes and Noble Nook ( ).
The Cybook Opus's superskinny profile (6.0 by 4.2 by 0.4 inches) and featherlight weight aren't its only distinguishing features: It also has a built-in accelerometer that shifts the text's orientation every time you turn the device 90 degrees (alternatively, you can press a button to reorient text). The large-format Amazon Kindle DX ( ) has an accelerometer as well, but on the Cybook Opus, no matter which way you hold it, page turning is impressively intuitive, whether you use the four-button navigational wheel or the pair of line-shaped buttons on the device's plastic case.
The navigational wheel and the select button it surrounds guide you through context-sensitive menus that pop up when you press a button to the right of the wheel (a Back button sits to the left of the wheel). The menus have a fairly simple design; you can customize them (and your books) by choosing any of 12 gradually increasing font sizes. And because the Cybook Opus supports the securable ePub e-book format (which almost all major booksellers except Amazon use) you can read a vast array of commercial content as well as the enormous Google e-book library. (The Opus also supports PDF, HTML, and .txt documents.) Its 1GB of internal memory can accommodate hundreds of books, but it has a microSD Card slot in case you need more space.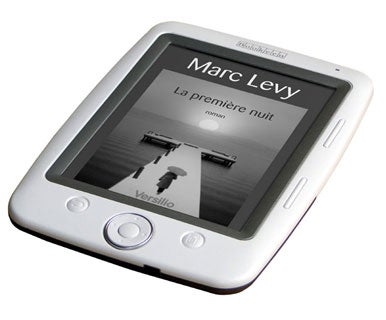 The Cybook Opus has a 5-inch screen that uses the popular E Ink technology available on most e-readers; its virtues include high contrast that increases in bright light, and low power consumption (it has no backlight, and it consumes power only when you turn a page). It isn't the best E Ink screen available, however, as it supports only 4 shades of gray compared with the 8 or 16 shades on some other readers. If you intend only to read on the Cybook Opus and not to view images, its resolution (200 dots per inch) will be plenty.
Bookeen says that the rechargeable (and replaceable) lithium polymer battery supports up to 8000 page turns between charges. To charge the device, you use the same included USB cable that you use for transferring content to it (either via free Adobe Digital Editions software or by dragging and dropping to storage).
Macworld's buying advice
The Opus has pretty much everything you need to read a lot of books, in a very small and lightweight package. But you won't find extras such as a music player, the ability to create notes, or text-to-speech support . And though the Sony Reader Pocket Edition is heavier than the Opus and has fewer font options, it is similar in size and costs less.
Then again, if extra features aren't important to you and portability and great font-size flexibility are prime concerns, you might find the extra money well spent on the Bookeen Cybook Opus. It's certainly nice to have the choice.