Google Wave is one of the most hyped but least understood services Google has ever launched. Part of the problem is that—while it's about collaboration and real-time communication—it has no direct parallel to existing products. As such, it's hard to explain Wave to anyone who hasn't used it. But let me try.
What Wave Is
Created by the same engineers who masterminded Google Maps, Wave lets you and your collaborators build documents—which Google calls "waves"—from conversations. Multiple people can simultaneously edit and chat inside waves. You can also add images, Web links, video clips, and polls to waves, and that's just the start. Thanks to the growing ranks of Wave extensions, you'll be able to incorporate all kinds of interactive content. Wave offers live typing, so you can see your collaborators' input in real-time, keystroke by keystroke.
Google describes Wave as "what e-mail would look like if it were invented today," in the world of instant messaging, wikis, and online forums. But while the initial idea may have been to reinvent e-mail, in practice Wave is more akin to Google Docs than it is to Gmail. For example, how many times have you tried to develop a document through e-mail, with all those criss-crossing message threads clogging your inbox? Wave seeks to do away with that, by providing a single, hosted copy of a conversation that everyone can edit and discuss.
Wave is similar to e-mail and different from other Web apps because of federation. If Wave catches on, your company could set up its own Wave server, which would then be able to communicate with other Wave servers across the Internet, independent of Google.
What Wave Isn't
While Wave incorporates features found in e-mail, instant messaging, wikis, and online forums, it isn't a direct replacement for any of those tools—especially not for e-mail. While it can be an excellent tool for co-writing and discussing text, it lacks many basic features you'd find in, say, Google Docs, such as saving the document in Microsoft Word or PDF format. Right now, you can make waves public and even embed them on external Web sites—but only other Wave users who are signed in to the service can see them. (Google promises that anonymous, read-only access to embedded waves is on its way.)
How to Use Wave
Right now you need an invitation to create an account in the Google Wave preview; you can request one at the Wave home page or you can ask a Wave-using associate to invite you.
When you sign into Wave for the first time, you'll notice it looks much like your e-mail client: there's an Inbox, folders, and Contacts. Unread waves are at the top of your Inbox in bold, and you can click on a wave to view its contents, reply or edit it.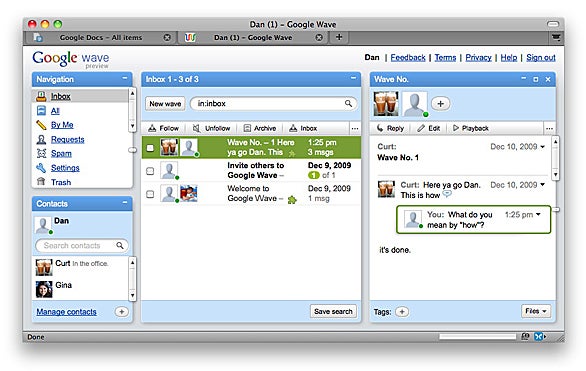 To start a wave, you click on the New Wave button. Enter a title and initial message, and click on Done. You can then add contacts to collaborate on that wave by choosing them from your Contacts list. When you add a contact to a wave, you can give him or her full read-write or read only privileges.
A wave isn't just a single document; it's made up of a collection of messages, called "blips." When you create a new wave, you start by editing its root blip. Anyone else with editing rights can change that blip, or they can add blips below it or inside it.
To reply to a blip, you select it and then press Enter to add a new reply blip directly beneath it. Blips don't have to be appear sequentially, one right after another; you can also embed one blip inside another: If you want to place your reply next to specific word, you select it then click on Reply; your blip will appear inside the parent blip. This way, inline conversations can happen at any point inside a wave to comment on specific bits of content.
The content of a blip isn't limited to text. Using Wave's toolbar, you can also add photos, files, Google Maps, YouTube videos, and Yes/No/Maybe multiple choice questions to a wave. With Google Gears installed in your browser, you can drag and drop images to upload them into a wave.
To see how a wave has changed over time, you can use the playback feature to go back and forward in a revisions timeline. If someone made an edit to the wave that you want to roll back, click on the Restore button on the Playback toolbar. You can organize your waves in private folders or add tags (which everyone can see and search on).
The Bottom Line
I think Google Wave represents an exciting new model for real-time, online collaboration with lots of potential. I could see it being used for a variety of applications, including group chats, collaborative meeting notes, event planning, project management, and collaborative news tracking.
Unfortunately, in its current preview state, it's not quite ready for production use. It's missing important features—such as e-mail notifications and the ability to remove a participant from a wave—and it can be unstable and slow in some browsers. Mac users who want to check it out should try Waveboard, a desktop client that includes Growl notifications and an iPhone application.
Gina Trapani co-hosts a weekly podcast on Google and cloud computing, This Week in Google and is the author of The Complete Guide to Google Wave.