At a Glance
Expert's Rating
Pros
Innovative design
Small and easy to carry around
Better-than-expected sound
Cons
A little pricey
Needs the right surface for ideal sound
Our Verdict
The built-in speaker on the iPhone and newer iPod touch models is great in a pinch, but its sound is somewhat tinny and not very loud. To hear better sound out loud (or, in the case of speakerless iPod models, at all) when you're traveling or just out and about, a good option is a portable speaker. And Tunebug has taken the notion of 'portable' to the extreme with the Vibe.
The $70 Vibe is a small speaker (Tunebug alternately refers to it as a speaker and a sound generator) that's a little more than two inches wide and high, and only one inch deep, but is surprisingly sturdy at 5.3 ounces. It uses what the company calls SurfaceSound technology: the idea is that you connect your iPod, iPhone, laptop, MP3 player, or other mobile device to the Vibe using the included 1/8-inch miniplug cable, set the Vibe on a flat surface, and turn it on (by holding down the single button on the top), and then the Vibe transmits sound waves through whatever surface it's on—essentially turning that surface into a larger, louder speaker.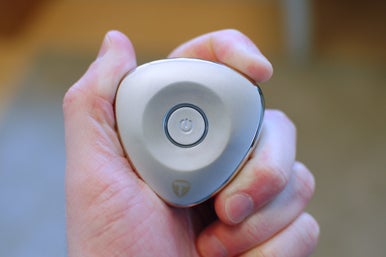 The Vibe is powered by an internal rechargeable battery, which you charge, using the included USB-to-miniplug cable, from your computer or a wall or auto charger with a USB port (such as the charger that comes with the iPhone). The company says you can play music for five hours on a charge.
Tunebug suggests that you'll get the best results placing the Vibe on a hollow surface, such as a box; in fact, the Vibe comes with a small box, called a Sound Base, for just this purpose (the Sound Base doubles as a case). In my testing, sound quality and volume varied wildly depending on the surface on which I put the Vibe. (You adjust the source volume level using your iPod, iPhone, or other connected device's own volume control.)
The Vibe/Sound Base combo did a respectable job, producing mostly clear sound—although it lacked bass, audio had more punch than the same songs played through my iPhone 3GS's built-in speaker. A DVD case worked pretty well, too, as did an unopened contact-lens-solution box and playback on the mantle above the fireplace in our house. In fact, on the right surface, volume is loud enough to fill a small-to-medium-sized room and sounds comparable to many entry-level iPod speakers—ideal for an office, hotel room, or other not-so-large place where you want to hear or share the contents of your portable device without lugging along the typically sized portable speaker system.
(The company plans to release in April a $120 Bluetooth version, called the Shake, designed for mounting on bicycle and climbing helmets.)
Macworld's buying advice
The Vibe provides an innovative way to listen out loud to the music on your portable devices. Its small size makes it extremely portable, and if you have it on the right surface, the sound is nothing to sneeze at.
Note: When you purchase something after clicking links in our articles, we may earn a small commission. Read our affiliate link policy for more details.