The newly announced point-and-shoot cameras range in price from $100 to $150. The camcorders cost between $110 and $200.
Spot the differences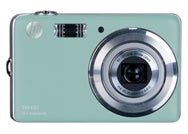 Each of the new HP cameras feature 4X optical zoom, except for the $150 PW550. Aimed at casual outdoor photographers who want to capture panoramic shots and vast scenery, the PW550 has 5X zoom optical zoom and a 28mm wide angle lens.
The $130 SW450 is set apart by its tiny size. The ultra-thin camera is less than 3/4th of an inch thick and weighs .25 pounds.
A multitude of modes
The compact cameras all include 25 scene modes. There are the usual scenes consumers have come to recognize on point-and-shoot cameras, including Party, Portrait, Snow, Sunset, and Night modes. A sports scene mode is good for capturing action, and also includes the ability to take a burst of photos if you hold the button down.
The uncomfortably named Love Portrait mode is specifically for pictures you shoot of yourself and another person. It uses face detection to ensure the picture isn't taken until you're both in the frame. A Soft Skin mode does a bit of automatic in-camera retouching, smoothing out skin textures. Another new scene is the Auction mode, which saves images as smaller, easily-uploadable files for posting on sites like eBay or Craigslist.
Also present on each camera are smile and blink detection. Smile detection waits until you're properly cheerful before taking the shot. If a person was blinking when their picture was taken, the blink detection feature will alert you to the error and ask if you want to keep or delete the shot.
Three new camcorders
The V1020h is a small pocket camcorder about the size of a Flip. The $110 video camera shoots 720p video, and has a rechargeable lithium-ion battery and a USB connector.
Note: When you purchase something after clicking links in our articles, we may earn a small commission. Read our affiliate link policy for more details.