When SlingPlayer Mobile was first released for the iPhone, it was a disappointment. Yes, it performed the nearly miraculous task of displaying live TV on your iPhone. But it only worked via Wi-Fi and it didn't properly display letterboxed content. In the intervening eight months, Sling Media has improved its app, and AT&T has relented on its policy prohibiting place-shifting live TV over its network.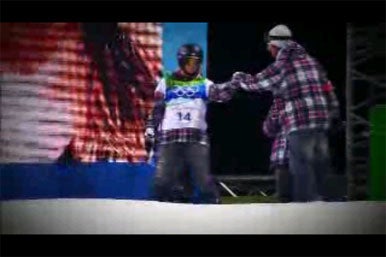 SlingPlayer requires that you hook up one of Sling Media's Slingbox video players to your cable or satellite box (or any other video-capable device) at home, and place an infrared emitter in front of it so that the Slingbox can control it remotely. Then you you must set up an account on Sling's web site and register your Slingboxes there — SlingPlayer logs in to that account in order to display a list of available Slingboxes. Once you log in, you pick a Slingbox and you're set — by default the app will automatically connect to that Slingbox every time it opens.
Once you're logged in and viewing video, a single tap brings up a menu bar with options to view favorite channels, emulate your remote device's remote control, bring up DVR or program guide controls, set options, and disconnect from the Slingbox. The Guide and DVR buttons are shortcuts to quickly pick a program to tune to or play back, though sometimes I found that they got in the way and I generally just preferred to use all the buttons on the emulated remote control.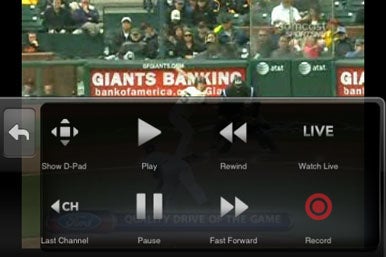 Once you set up a list of favorite channels, you can switch among them simply by swiping your finger from left to right, or right to left. If you simply want to move to the next channel in your lineup, rather than among favorites, you swipe from the top to the bottom (channel down) or bottom to top (channel up). These are intended to be tools that help save you time, but I accidentally swiped (causing a lengthy delay in viewing while I wait for the channel to change and then change it back) far more often than I did it purposefully. It would be good if you could opt to turn the gestures off or, even better, map them to commands you use more often. I'm also disappointed that SlingPlayer didn't honor one of the most basic iPhone gestures, though: the double-tap on video that toggles between a zoomed picture and a letterboxed or pillarboxed picture.
The picture quality in the app is good, though far from immaculate. Here the app is constrained by the iPhone's relatively meager (compared to a full-fledged PC) processor speed and network connection. When you're on a Wi-Fi network, the app will use more bandwidth and increase the quality of the video. On a 3G network, the video will degrade in quality due to the limited bandwidth available.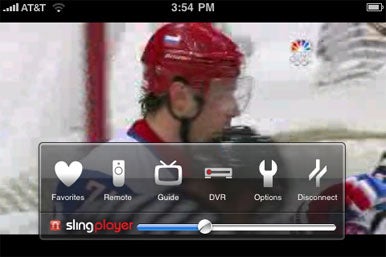 But while you won't get pristine video from SlingPlayer Mobile for iPhone, what you do get is quite watchable, especially if you're tuned into your home team's game while sitting in a departure lounge at a far-off airport. (Of course, picture quality will vary depending on the speed of your iPhone's network and your Slingbox's connection to the Internet.) I managed to watch a big chunk of a playoff football game in an airport departure lounge via wi-fi, and it was enjoyable, though the video did tend to pause to re-buffer a bit too often—something that I noticed a lot on finicky wi-fi networks, but less often on 3G networks.
I don't use SlingPlayer on my iPhone as often as I had anticipated when the product was first announced. Now that Sling Media has added 3G support—or, to be more accurate, now that Apple and AT&T have allowed Sling Media to enable 3G support—the product is vastly more appealing. When you're trapped somewhere boring, and you know a live sporting event is going on, it's a fantastic option.
[Jason Snell is Macworld's editorial director. He's been using a Slingbox to watch his beloved San Francisco Giants for several years.]