It wasn't hard to find one of the busiest places on the show floor at last week's Macworld Expo. That would be the Mobile Applications Showcase where around six dozen or so iPhone app developers held court, displaying their efforts before a steady parade of Expo attendees.
We've already covered much of the iPhone-related news to come out of Expo, and we'll have plenty of reviews of the apps we saw at the show gracing the pages of iPhone Central in the coming weeks. (You can already read Macworld's reviews of Grocery Pal and AutoPark, which were both on display at the show.)
See the iPhone apps that caught our eye at Macworld Expo
But before this year's Expo fades even further into the rear-view mirror, I wanted to empty out my reporter's notebook with news and notes I collected while walking up and down the crowded aisles of the Mobile Applications Showcase.
Snoring U
People who snore at night—or, more to the point, anyone who shares a bed with someone who snores at night—will want to look into Snoring U, a $5 app from Pointer Software Systems that listens for your snoring and then plays a sound to get you to turn over.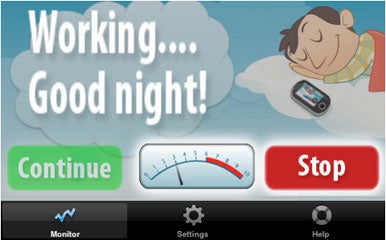 The app, which arrived on the App Store in December, monitors the volume and frequency of your breathing to figure out whether you're snoring. "The noise has to be strong enough and continue for a second and then repeat" for Snoring U to leap into action, Pointer CEO Ilan Aisic explained to me on the Expo show floor.
When Snoring U determines that you're sawing logs, it can vibrate or play a sound clip of your choosing; the idea is this will nudge you into rolling onto your side. You can set how many times the app will sound off each night as well adjust its sensitivity to snoring.
The app works after the screen auto-locks and the iPhone goes into sleep mode. Aisic estimates that over the course of an eight-hour night, the app will consume about 20 percent of your battery power—assuming that you don't keep your phone plugged in on your nightstand.
Currently at version 1.1, an update to Snoring U is in the works that will add a history feature to the app which will log how often and how loud you snored as well as how many times Snoring U had to vibrate or play a noise.
Peekeez Webcam Viewer
Peekeez wants to help you keep an eye on things, even when your eyes are elsewhere.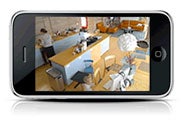 The company's iPhone app, Peekeez Webcam Viewer, lets you use your iPhone or iPod to watch video streaming live from a Webcam that's connected to a Mac or PC. You fire up the $2 app to get a live look-in at your home, business, or anything else you need to view.
Peekeez app becomes even more valuable when you sign up for the company's monthly service. For $8 a month, Peekeez securely records all your video, keeping it for 14 days so that you can review video from anywhere. Certainly, there's security benefits to that capability, but Peekeez's Ben Holz tells me that business also use the video to review operations—make sure that a store opens on time, see how long lines are at different times of the day, and measure customer flow, to cite a few examples.
Peekeez uses HTTP Live Streaming and H.264 for its video streams, and the results are pretty impressive. The video Holz showed me last week—streaming live from a coffee shop in Maui—was very clear on the iPhone's screaming with very little delay.
Todo
Appigo was touting the latest version of its task manager Todo. Version 3.4 added support for TextExpander, SmileOnMyMac's typing shortcut utility.
Because third-party apps can't run in the background on the iPhone and iPod touch, developers need to come up with clever ways to get their software to work together. The SmileOnMyMac teams has an API that other developers can build into their app to let users access their TextExpander text snippets for inserting frequently used pieces of text with just a few taps. Todo is one of a dozen-and-a-half apps to offer TextExpander support.
Appigo has gotten into the integration game itself, offering a Todo API that lets other apps interact with the task manager. In addition to TextExpander, GoodReader, SpellChecker, and Handy CookBook offer some integration with Todo, as does Appigo's own Notebook app. Version 3.4 of Todo now lists other apps the task manager works with via the app"s Settings screen.
In addition, the update introduced starred tasks and a rotation lock setting.
WhosHere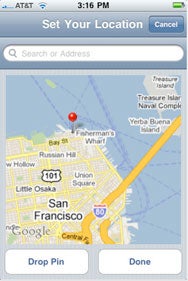 WhosHere 2.2 hit the App Store during Expo. The latest version of the social networking app from MyRete adds Twitter and Facebook integration and the ability to relocate your profile to anywhere in the world in order to find other WhosHere users nearby.
WhosHere is a friend-finding app with around 1 million users in 150 countries. Users can send free text messages and make Wi-Fi phone calls via WhosHere; since the app handles all those interactions, there's no need to ever hand out your phone number, IM address, or any other personal information.
The new travel feature is a $2 in-app purchase for users of the free WhosHere. By moving their profile to a new location, users can connect with other WhosHere members, getting advice on what to visit and where to eat.
Hello
Speaking of free messaging services, a new one will be arriving at the App Store in a matter of weeks. Representatives from Hello were on the show floor at Expo to preview their upcoming mobile-to-mobile messenger application built for the iPhone, iPod touch, and BlackBerry.
The app will let you chat with individuals as well as groups. It will use push notifications to let you know when a message comes in. You'll also get a unique seven-digit PIN for Hello, which the app's creators say will help you protect your privacy while making it easy to chat with friends without racking up SMS fees.
Andrew Hanhauser of Hello told me via e-mail that the app was submitted to Apple for approval this week, which could mean that it arrives on the App Store as soon as the beginning March. An Android version is also in the works; that's slated to be completed in another month or two.
Cabulous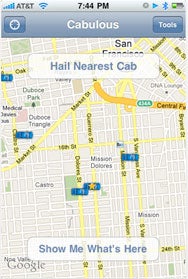 San Francisco is turning out to be the proving ground for an app that lets would-be taxi passengers hail a cab with a simple tap. Cabulous is a free app for the iPhone that shows you a map of nearby cabs that you can hail simply by tapping their icon. In addition to one-touch hailing, the latest version of Cabulous—which was on display at Expo—also lets you send a note to the driver containing information such as where you want to go or where you want to be picked up. Passengers can also tag drivers as favorites, making it easier to give them repeat business.
Of course, for such a service to work, drivers will have to use Cabulous, too. To that end, developer UpStart Mobile says its signed up more than 150 cabs in the San Francisco Bay Area since launching the app at the beginning of January. The UpStart Mobile rep at Expo told me the service had just passed the 2,000-fare mark last week.