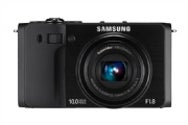 Samsung is a company more commonly associated with HDTVs and smartphones, but the company's camera announcements at PMA 2010 in Anaheim made it clear that they're very serious about cameras.
Hot on the heels of the DSLR-like NX10 unveiled at CES and last year's successful DualView point-and-shoot cameras, Samsung introduced a camera with the brightest, fastest lens we've seen in any recent point-and-shoot, a fast-shooting camera that looks to give Casio's High-Speed Exilim line a run for the money, and a high-definition pocket camcorder that out-specs most current models.
Samsung TL500: Look Out, Canon PowerShot G11
The highest-end announcement of the day is the 10-megapixel Samsung TL500, which sports an incredibly bright and fast f/1.8 lens as well as a very large sensor for a point-and-shoot camera.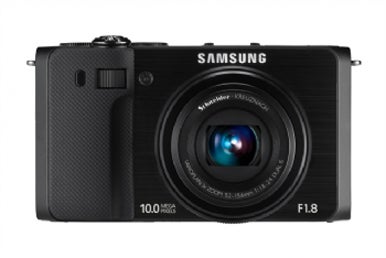 The 0.59-inch CCD sensor in the TL500 is the same size as the sensor found in highly-rated advanced cameras such as the Canon PowerShot G11 and Canon PowerShot S90, and the f/1.8 aperture on the wide-angle end is larger than the aperture on either of those Canon cameras. That should translate to excellent low-light performance and the ability to shoot with very fast shutter speeds, as well as shooting photos with a very shallow depth-of-field when using the TL500.
What's more, the TL500 features an ultra-wide-angle 3x optical zoom lens, ranging from 24mm to 72mm and bolstered by dual optical/digital image stabilization; that 24mm on the wide-angle end offers more coverage than the PowerShot G11 and PowerShot S90.
One glaring omission is the lack of an optical viewfinder on the TL500, which is mitigated quite a bit by the inclusion of a 3-inch-diagonal, swiveling AMOLED screen. The TL500 also offers full manual controls, aperture priority, shutter priority, and RAW shooting capabilities, as well as a beginner-friendly Smart Auto mode.
In a nod to the Olympus Pen EP-2, the TL500 also has a horizonally scrolling control wheel for in-camera settings; unlike the Olympus, the TL500's adjustment wheel is on the front of the camera, where the shooter's index finger might rest on the grip.
The TL500 also records standard-definition (640-by-480) video at 30 frames per second. The intriguing camera is slated for availability in the Spring for $450.
Samsung TL350: Look Out, Casio High-Speed Cameras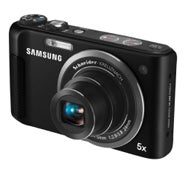 The slick, 10-megapixel (CMOS) Samsung TL350 has a high-speed shooting mode that takes up to 10 full-resolution snapshots per second, as well as a video mode that captures 1000 frames per second at a highly-reduced resolution (138-by-78 pixels).
In normal video mode, the TL350 shoots 1080p video at 30fps, and also offers an HDMI-out port for viewing clips on an HDTV.
The TL350 has a 5x optical zoom lens that matches the TL500's reach on the wide-angle end: 24mm to 120mm. Full manual controls, aperture priority, shutter priority, Smart Auto mode, RAW shooting, dual optical/digital image stabilization, and a 3-inch AMOLED screen round out the TL350's bag of tricks.
The Samsung TL350 is due in the Spring for $350.
Samsung HMX-U20 and HMX-U15: Look Out, Flip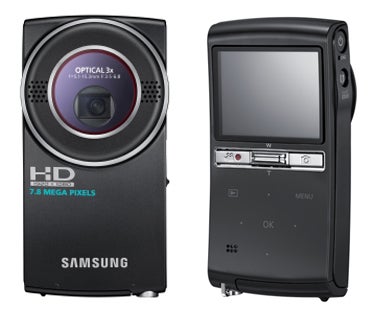 Also coming in the Spring are two new pocket camcorders, both of which record 1080p high-definition video (H.264) at 30 frames per second. The Samsung HMX-U20 also offers a 3x optical zoom lens—a feature you rarely see on a pocket camcorder—and the ability to shoot 10-megapixel still images.
The slightly lower-end HMX-U15 lacks the optical zoom lens, but adds the ability to take 14-megapixel photos. The camcorders also have stereo mics on the front of their faceplates to record audio.
Both camcorders offer flip-out USB connectors and one-touch uploads to YouTube, as well as HDMI-out ports, SD/SDHC storage slots, digital image stabilization, and an angled grip that Samsung says reduces arm strain while shooting footage.
The U20 and U15 boast a time-lapse recording feature that lets the shooter combine several shots snapped at a fixed interval to create an instant time-lapse video. The 3x optical zoom U20 will sell for $250, while the U15 will cost $230.
Samsung AQ100 and SL605: Waterproof and Scratchproof, Respectively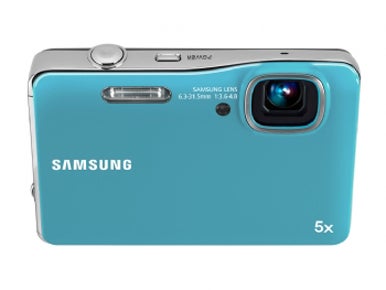 Rounding out today's Samsung announcements are two ruggedized cameras, both with budget-friendly prices.
The waterproof Samsung AQ100 is rated to withstand underwater submersion down to 10 feet, and it offers a dedicated "Aqua mode" to optimize in-camera settings for underwater shooting.
Key specs include a 12-megapixel sensor, a 5x optical zoom lens with digital image stabilization, 720p video recording, and a 2.7-inch LCD screen. It's slated for Spring at $200.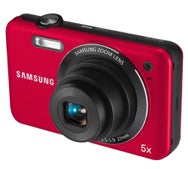 The scratch-resistant, 12-megapixel SL605 has a metal faceplate, rubberized buttons, and an anti-scratch coating that will keep it looking real smooth-like.
Its 5x optical zoom lens ranges from 27mm to 135mm, and it includes a flash-intensity adjusting "Smart Night" mode that Samsung says will eliminate blown-out low-light shots. A 2.7-inch LCD and standard-definition video recording are also in the mix; Samsung says the camera will be available this Spring for just $130.