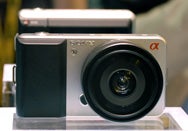 Saturday at PMA 2010, Sony unveiled a concept model of a compact interchangeable-lens camera with an APS-C sized sensor (24mm x 16mm). The upcoming cameras share the same Alpha branding as the company's DSLR line and are slated for availability later this year.
See a slideshow of Sony's announcement and first peeks of the new cameras.
Few details about the finished product were released during the unveiling, but we do know it will use Sony's new Exmor APS HD CMOS sensor and be able to shoot 1080p high-definition video. in AVCHD format. No pricing or availability has been announced for the new Sony compact cameras, nor have details about its lens compatibility.
The company says that the camera is designed to offer DSLR-like image quality in a more-compact package. Samsung's NX10, announced earlier this year at CES, also offers an APS-C sized sensor, but the Sony prototypes unveiled today look much smaller in size.
The concept model was showcased in three stylish camera-body colors: silver, red and blue.
Like the NX10 and the Micro Four-Thirds system cameras made by Olympus and Panasonic, Sony's concept camera lacks the internal mirror box found in traditional DSLR cameras. That allows the camera to be much more compact than a DSLR, but also means that it doesn't have a through-the-lens optical viewfinder; Sony's concept camera has a large LCD on the back of the camera that serves as its only viewfinder.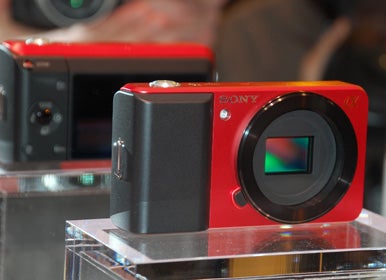 Sony does have a few unique in-camera features that would make this model an enticing option, such as its one-touch Sweep Panorama mode, Handheld Twilight mode (which blends up to six images together to create a noise-free low-light image), and Advanced Scene Recognition mode (which takes two photos in rapid succession with and without the flash).
We'll post more about Sony's new compact interchangeable-lens camera as soon as we get more information. In the meantime, stay tuned for more camera news from the PMA 2010 show in Anaheim.
(Photos: Heather Kelly, Macworld)