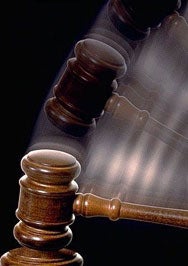 It's a busy time for the good people at the U.S. International Trade Commission, which, on Friday, announced that it will investigate recent claims by Apple's that Nokia's smartphone products infringe on the former's patent.
According to Reuters, this means that the claims will now be assigned to one of the commission's six administrative judges, who will hear both parties and schedule the completion of its investigation within 45 days (which, as those who have had the misfortune of dealing with the civil legal system know, means absolutely nothing, as these deadlines are not binding).
This is only the latest news in a series of legal cases involving multiple parties in the smartphone market. Nokia sued Apple late last year, claiming that the iPhone infringes on ten patents owned by the Finland-based company for technologies that are at the core of most cellular communication devices. Nokia then followed up its lawsuit with a complaint to the ITC, in which it also demanded that all shipments of iPhones to the United States be stopped until Apple licenses the patents in dispute.
Apple, in turn, has countersued Nokia on the basis that the latter's products infringe on 13 patents owned by the fine folks from Cupertino and then filed a similar claim with the ITC that sparked the current investigation.
If all this is not confusing enough, Kodak has also filed an unrelated lawsuit against Apple (and Blackberry maker RIM), claiming that their handsets infringe on several of its digital imaging patents. Not to be outdone by its rivals, the Rochester, New York-based company has also taken matters up with the ITC—where, we are sure, talks are under way to open up an iPhone division.