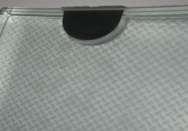 Update: The auction is now listed as ended, though with no winner. You guys want to tell us exactly how you got hold of this again?
Get your favorite auction-sniping tool ready: One of the massive glass stairs from the spiral staircase at the Apple Store on Fifth Avenue in New York City is for sale on eBay.
According to the seller, the story goes like this: A customer at the Apple Store dropped a Snapple bottle on the staircase, cracking the glass on one of the steps. (Wow, when they say Snapple is "made from the best stuff on Earth," I didn't think they meant adamantium.) The store replaced the step with a new one, and the seller (with a few buddies) rescued the damaged stair before it was sent off to the upstate farm where old Apple products frolic and live out the rest of their days.
The seller dropped the opening bid from $700 to $200, and you have more than a week to scrounge up the cash to take home a (broken) bit of Apple history. But before you place your bid, note that the auction is local pickup only. If you want the stair, you'll need to grab it from the seller in Brooklyn, and you'll likely need a few burly friends to help you maneuver it back to your home—it supposedly weighs about 250 pounds.
Of course, if you feel that buying a broken glass stair is the best way to reflect your own Apple fandom, you might actually be better served with a full, 12-step program.