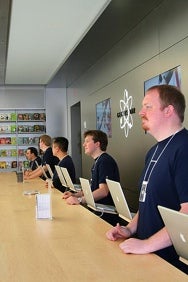 Even if we can all agree that we hate hold times and the awful choice in music, customer service is one of those incredibly subjective experiences. When it comes to Apple I seem to hear from people who swear by it just as much as people who swear at it. From a more objective standpoint, though, it seems that Apple has done a pretty good job of serving its customers as needed, having nabbed the number three spot in BusinessWeek's annual customer service survey.
In its bronze medal position, Apple earned A+ ratings in both the qualify of staff and efficiency of service; its overall score increased by almost ten percent over its 2009 rating. In particular, the company earned plaudits for its Genius Bar and new roving check-out system. Of those surveyed, 66 percent said they would definitely recommend the brand and 58 percent said they would definitely repurchase the brand. The two companies that beat out Apple were retailer L.L. Bean and insurance and banking company USAA.
The information in BusinessWeek's survey was compiled in part from numbers collected by well-respected market research firm J.D. Power and Associates, along with an additional survey material collected from a panel of BusinessWeek readers.
Amusingly enough, Apple may have had a hand in besting itself. There's a lengthy article at BusinessWeek about the second place USAA (in the interest of full disclosure, USAA is my bank, credit card company, and insurance company), which talks about how the company has improved its service through the use of technology—in particular its innovative iPhone app, which allows the depositing of checks online and initiating insurance claims.
Still, as Apple was 20 places above its nearest competitor, Dell, I'd say there's not a whole lot for the company to worry about.