FoodFinder from Michael Quach is a basic restaurant locator. Perhaps, even a little too basic.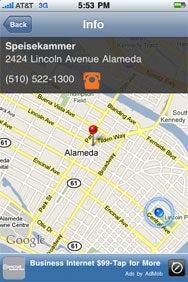 The free app uses the location features of the iPhone or iPod touch to show you nearby eateries. Once you allow the app to use your current location—this feature is much more accurate if you've got an iPhone—you can browse through FoodFinder's extensive list of cuisine types. It's all here—French, Italian, Korean, family style—in a lengthy, scrollable list. Thankfully, FoodFinder includes an A-to-Z vertical navigation bar so you can jump to the category you like. (Good news for fans of Vietnamese food who might otherwise work up an appetite scrolling all to way the letter V.) Less thankfully, the app does not let you search all types of food at once, so you better be in the mood for something specific.
Once you've tapped on a particular category—pizza, say—FoodFinder calls up a list of restaurants in your immediate vicinity matching that criteria. Tapping More Results at the bottom of the list widens the search net, though I found that this second group of results would occasionally include locations that were closer to me than options in the previous list.
Tapping on a particular restaurant brings up a map, with a pin that shows exactly where the eatery is relative to your location. There's also a phone number that you can double tap to call the restaurant. Note that you can't call up directions or jump into the iPhone's Maps application from FoodFinder.
That's all the information FoodFinder promises to give you, so on that score, it delivers. However, it's information without much context. You don't get a tappable URL for the restaurant, any information about the menu or pricing, or links to reviews and recommendations. That's the sort of data that can come in handy when you're looking for a place to eat. Say you use FoodFinder to locate a nearby Mexican restaurant that's three or four blocks away—I don't know about you, but I'd be pretty disappointed to walk over there, only to discover that the entrees cost a little more than I was prepared to pay.
On the plus side, FoodFinder doesn't limit itself to just traditional restaurants and eateries. It also finds nearby grocery stores, convenience stores, wineries, and farmers markets. Those are all helpful, unique touches, though the farmers market entry would be more valuable if it included the days and hours of operations.
Like many apps of its ilk, FoodFinder pulls its information from Google, so the results you get will not always reflect reality. There's a barbecue place so close to my house, I could walk there to pick up a half slab of ribs in the time it's taking you to read this review—it's not listed in FoodFinder's Barbecue category. The Supermarkets section includes a listing for the Safeway one city over, but not the two in my hometown. A pizza place is listed at a location where no pizza place has ever been (it's the site of a middle school), and the aforementioned Supermarket section includes the home address of a man in a nearby city who shares a last name with the Kroger supermarket chain. None of this is FoodFinder's fault, necessarily, but it's a reminder to take the results this app returns with a shaker or two of salt.
It's hard to get too bent out of shape about a free app that doesn't pretend to be anything more than a bare-bones restaurant locator. Still, other apps such as Where To do a better job at this sort of thing with a prettier interface. And a multitude of other App Store offerings— Zagat To Go, Yelp, Urbanspoon, and Local Eats, just to rattle off a quartet of apps from the top of my head—give diners more valuable information. FoodFinder isn't bad at giving you name, rank, and serial number-style data for restaurants, if that's what you want. It just seems like you would be better served by wanting more.
[Macworld.com executive editor Philip Michaels could go for some brisket right about now.]